Watermelon slushies
Refreshing, fun and delicious. You'll be slurping these down in seconds.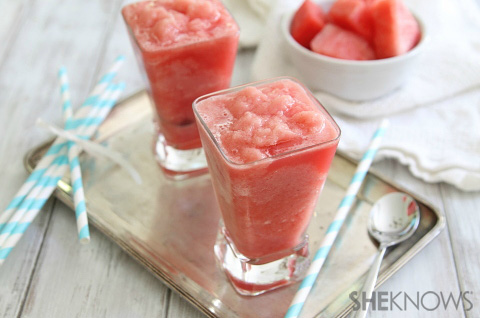 Watermelon is the ultimate summer fruit. Freezing it and throwing it in a blender with a few other ingredients including hydrating coconut water makes the perfect summer slushie. It's a fruity, thirst-quenching drink both kids and parents can enjoy.
Watermelon slushies
Serves 2
Ingredients:
2 cups cubed watermelon, frozen
1/2 banana, frozen
Juice of 1/2 a lemon
1 tablespoon agave or honey
1/2 cup coconut water
Handful of ice cubes
Directions:
Combine all ingredients in a blender and blend.
More watermelon recipes
Watermelon and jalapeno margaritas
Boozy watermelon poptails
Watermelon and strawberry lemonade