3 Southeast Asian spins on pasta dishes
I didn't grow up in one of those towns that had a very good (or reputable) Asian food scene. Not only did we never order Chinese food or Thai takeout, but my mom didn't really make a whole lot of Asian flavors either. Even though I was never a picky eater, it definitely describes why my brothers still have trouble enjoying any kind of curry, peanut butter chicken or rice noodles.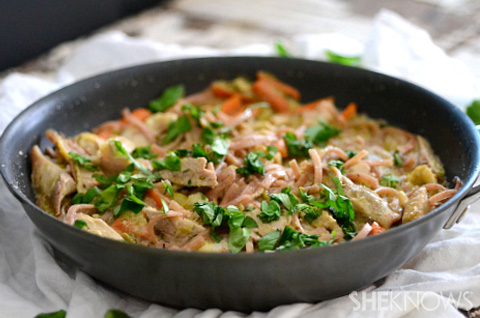 This is precisely why I plan on making at least one Asian dish a week for as long as my kids live at home. And the best way to introduce them to the slightly spicy, exotic and unique flavors of Southeast Asia is to start with an ingredient you know they'll eat, pasta noodles. Here I made three great dishes using Thai rice noodles, regular spaghetti noodles and soba noodles as a base and built the amazing flavor profile around them.
Easy green chicken curry
Serves about 4
Ingredients: 
1 tablespoon olive oil
1 large onion, chopped
1/4 cup Thai green curry paste
1 cup chicken broth
1-2/3 cups full-fat coconut milk
2 cups shredded chicken
3 carrots, julienned
1/4 cup chopped basil
2 small packages red rice noodles
Salt and pepper
Directions: 
Preheat oil in a large skillet over medium-high heat. Add the onion and cook until softened, about 2 minutes. Mix in the zucchini and carrot, and cook another 3 to 4 minutes. Mix in the chicken.
Soak the rice noodles in cold water for about 10 minutes, or until softened.
Mix in the green curry paste and cook for about a minute until fragrant. Stir in chicken broth and coconut milk. Bring the mixture to a rapid boil and then reduce heat to a simmer. Add in the rice noodles.
Cover the mixture and simmer for about 10 minutes until chicken is hot and noodles are soft.
Serve the mixture hot with fresh basil leaves.
Korean teriyaki salmon with rice noodles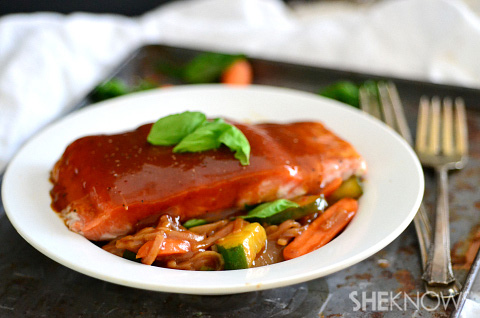 Serves about 4
Ingredients:
4 (5 ounce) skin-on salmon filets
1 tablespoon olive oil
1 medium onion, chopped
2 garlic cloves, minced
1 zucchini, chopped and diced
3 carrots, julienned
8 ounces cooked soba noodles
Fresh basil for garnish
Salt and pepper
For the sauce: 
1/3 cup water
1/3 cup soy sauce
3 tablespoons Korean pepper paste
1 tablespoon packed brown pepper
Chopped Korean peppers
Directions: 
Whisk in the water, soy sauce, Korean pepper paste and brown sugar until fully mixed and sugar is dissolved. Toss in the chopped peppers.
Heat 1 tablespoon of olive oil over medium heat. Add the onion, garlic, zucchini and carrots, and cook until softened, about 4 minutes. Toss in the noodles, 3/4 of the sauce and salt and pepper. Reduce heat to low and simmer for about 5 to 8 minutes, or until sauce is thick.
Heat a grill pan over medium-high heat and spray with nonstick cooking spray. Liberally salt and pepper the salmon filets. Cook skin-side down until fish is opaque, about 5 to 6 minutes.
Add remaining sauce to the salmon. Divide into 4 bowls and place a salmon filet over each bowl. Garnish with basil.
Creamy peanut butter noodles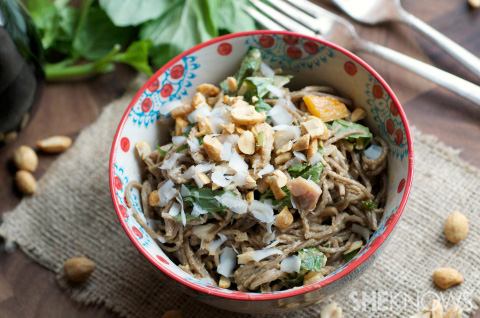 Serves about 4
Ingredients: 
For the salad:
8 ounces whole wheat spaghetti noodles (2 cups cooked)
1/2 large yellow bell pepper, chopped
1/2 cup thinly sliced green onion
1/4 cup chopped yellow onion
1/4 cup chopped basil
4 tablespoons chopped peanuts
Salt and pepper
For the dressing:
1/4 cup peanut butter
3 tablespoons rice vinegar
1 tablespoon low-sodium soy sauce
2 teaspoons sriracha
Directions:
Bring a large pot of water to a boil. Add noodles and cook until soft, about 4 to 5 minutes. Rinse in cold water.
In another bowl, whisk the peanut butter, rice vinegar, soy sauce and sriracha.
In a large bowl, mix the noodles, bell pepper, green onion, yellow onion, basil and salt and pepper. Pour the dressing over the mixture and toss to combine with tongs.
Top the mixture with the chopped peanuts.
More noodle recipes
Thai curry pumpkin noodle soup
Chilled sesame noodles
Cauliflower feta meatballs and spicy harissa zucchini noodles