Crispy biscuit-topped meatball casserole
Sometimes we just need some good old-fashioned comfort food, no matter what season it is. It may be 1,000 degrees outside, but there are days, like today, where the only cure is a big bowl of stick-to-your-guts comfort food, like this amazingly easy (and delicious) biscuit and meatball casserole.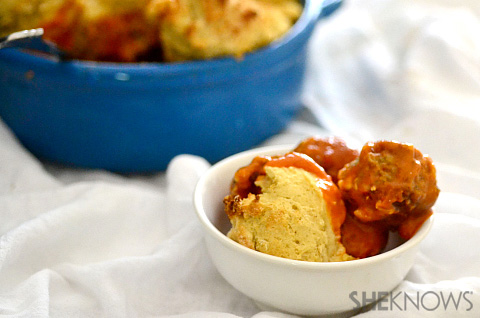 I get it, it sounds kind of wacky and gross, but after one bite you'll wonder why you haven't been doing this sooner. I mean, how can you go wrong with a dish that has meatballs, two kinds of cheese, homemade biscuits and sauce? Even if you've got a family of picky eaters, there's no way this down home comfort dish will get anything less than a five-star rating (or at least clean plates).
Crispy biscuit-topped meatball casserole
Serves about 6
Ingredients: 
1 bag (about 25) frozen meatballs
Salt and pepper to taste
3-1/2 cups marinara sauce
1 cup shredded cheddar cheese
1/2 cup shredded white cheddar cheese
1/2 cup shredded Parmesan cheese
Fresh basil
For the biscuits:
2-1/2 cups Bob's Red Mill biscuit baking mix
1/2 cup unsalted butter, cut into pieces
3/4 cup milk
Directions: 
Preheat oven to 350 degrees F. Grease an 8 x 8-inch baking dish with nonstick cooking spray. Place the meatballs into the bottom of the baking dish.
Top the meatballs with the marinara sauce and spread to evenly coat the meatballs. Sprinkle with the cheddar cheese and Parmesan cheese. Add salt, pepper and chopped basil.
Pour the biscuit mix into a bowl. Cut the butter into the flour using a pastry knife until the mixture resembles coarse sand. Mix in the milk and stir to combine.
Using an ice cream scoop, scoop the biscuits over the top of the cheese.
Bake for about 30 minutes, or until golden brown.
More casserole recipes
Tonight's Dinner: Mac 'n' cheese stuffed shells recipe
Beef enchilada casserole
Garlic lemon chicken bake