Apple, bacon, egg and potato bake
Toss together an easy, one-dish breakfast dish to start the day off right.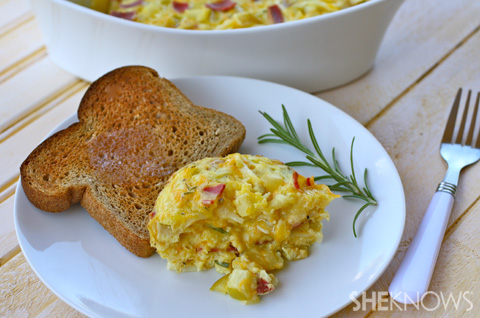 Whether you're looking for a special meal for overnight guests, or a dish that will make a great start to your family's day, this recipe for apple, bacon, egg and potato bake is it. This is an easy-to-make dish that is full of flavor.
Eggs go a long way when it comes to creating filling and flavorful meals, and this dish is no exception. The apples add a touch of sweetness that pairs nicely with the bits of salty bacon. You don't have to serve this in the a.m. only. It would be equally delicious for lunch or dinner served up with a side salad.
Apple, bacon, egg and potato bake
Serves 4-6
Ingredients:
1 tablespoon butter
1 large apple, cut into small cubes
4 strips cooked bacon, crumbled
4 eggs
3 tablespoons plain Greek yogurt
1/2 teaspoon salt
1/4 teaspoon ground black pepper
1 tablespoon fresh-chopped rosemary leaves
2 cups frozen hash brown potatoes, thawed
1/3 cup shredded cheddar cheese
Nonstick cooking spray
Directions:
Preheat the oven to 350 degrees F. Spray a medium-sized casserole dish with the nonstick cooking spray and set aside.
Add the butter to a skillet over medium heat. When the skillet is hot and the butter is melted, add the apple and cook for about 3 minutes, or until it softens. Remove the apple from the pan.
Add the eggs to a bowl and beat them with a whisk. Add the Greek yogurt and whisk until mixed thoroughly.
Season the mixture with the salt, pepper and rosemary, and mix to combine.
Gently fold in the potatoes, cheese, apple and bacon crumbles into the mixture. Transfer the mixture to the casserole dish and bake for 25 to 30 minutes, or until the eggs have set.
Remove from the oven and allow to cool for 5 to 10 minutes. Serve warm.
You'll love to dig into this dish.
More egg recipes