Summer vegetable shepherd's pie
Summer vegetable shepherd's pie is a lighter version of the wintertime classic. Use any summer vegetables you desire, then top with a creamy and delicious potato "crust."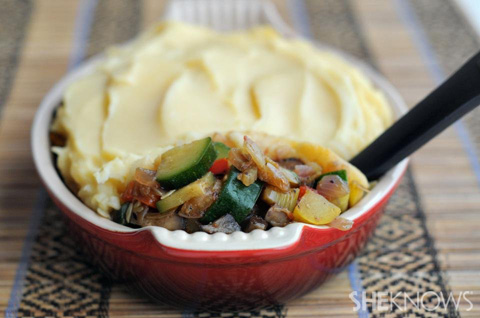 Summer vegetable shepherd's pie
Serves 4-6
Ingredients:
8 cups summer vegetables of choice, chopped to 1/8-inch cubes (zucchini, yellow squash, eggplant, mushrooms, fennel, onions, garlic, corn, etc.)
2 tablespoons olive oil
2 teaspoons salt
1 teaspoon black pepper
2 tablespoons tomato paste
3 large Yukon Gold potatoes
1/2 cup milk
Directions:
Heat a large skillet over medium heat.
Add the oil, vegetables, salt, pepper and tomato paste and stir to combine.
Cook over medium heat for 15 to 20 minutes until all vegetables are tender.
Remove from heat and allow to sit for about 10 minutes.
Cube the Yukon Gold potatoes and add them to a large pot of cold water.
Bring the water to a boil and boil the potatoes for 10 to 15 minutes until fork tender.
Drain the potatoes, put them back in the hot pot and mash with the milk until creamy.
Season potatoes with salt and pepper to taste.
Preheat broiler.
Pour the vegetable mixture into a 2-quart baking dish.
Spread the potatoes evenly on top.
Broil for about 2 to 3 minutes, then remove from oven and serve hot.
More shepherd's pie recipes
Seafood shepherd's pie
Leftover turkey shepherd's pie
Lentil and veggie shepherd's pie