Modern Mom: 10 Ways to eat healthy on a budget
Deep down we all want to eat healthy and feed our families nutritious, vitamin-packed foods, but when we sit down to menu plan and budget, we realize it's way less expensive to just eat processed and frozen foods. Yuck! Fortunately, it doesn't have to be that way.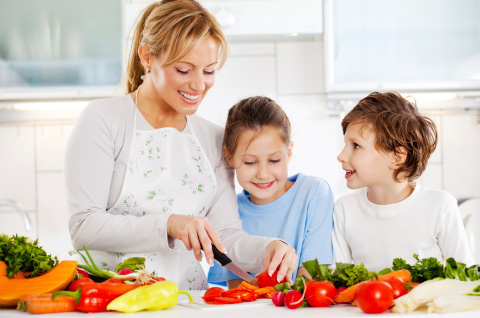 Photo credit: kristian sekulic/Vetta/Getty Images
Eating healthy is almost second-nature to me. I prefer the taste of fresh, healthy foods, enjoy cooking meals that are healthy for my family and also taste delicious and especially love how I feel after eating fruits, veggies and lean meats. With a college degree in finance, though, budgeting has always been a large part of my life. I've never once not looked at a price tag before loading it into my grocery cart. Being healthy while always on a budget has forced me to get creative with both cooking and saving money. Here are 10 things I do regularly to save money while eating healthy.
Keep it simple
If you're trying to save money, forget about making 15-ingredient, elaborate meals each and every night. I typically make one veggie and one meat each night. I throw in a filling carb, such as brown rice, about twice per week. Typical meals include grilled salmon with asparagus, chicken sausage with sautéed sweet peppers and onions, baked chicken with green beans and lean burger patties with oven-baked sweet potatoes.
Cook correct portion sizes
Cooking too much food almost always leads to eating too much food. If you want leftovers, divide the meal in half after cooking, but before serving. Part of eating healthy on a budget is not over-indulging at dinnertime, even if the food is healthy. Stick to the recommended serving sizes — your stomachs will thank you later.
Buy items on sale
I never meal plan without first checking which items are on sale at my local grocery store. Asparagus, for example, can cost $5 per pound not on sale. On sale, it's only $2 per pound. The price of veggies and meats for the week determines what we will or will not be eating.
Drink water
An easy way to cut expenses is to only drink water or milk. Ditch the sodas, sweet teas (loaded with unnecessary sugar), juices and sports drinks. Water is all we need to stay hydrated and keep our bodies functioning optimally.
Pre-package your snacks
Most people would agree that snacking is the hardest thing to control when it comes to portion sizes. To avoid overeating (and therefore, overspending), divide your snacks into correct portion sizes. Pre-slice fruits and divide into small Tupperware, put almonds or nuts in plastic bags according to serving size and pre-package your kids' snacks, too.
Make do with what you have
One way I've recently saved a good amount of money is by using ingredients I already have on hand. It may mean simple teriyaki bowls consisting of brown rice, low-sodium teriyaki sauce and baked chicken, but it feels good not to be running to the store every few days for ingredients. The savings add up quickly.
Buy foods in season
Summer is almost over and fall is upon us. Foods that are seasonal are less expensive than foods out of season. Fall foods include apples, broccoli and eggplant.
Grow your own food
Start a garden and plant foods that grow in your area, then make sure to use recipes involving those foods once they ripen. Not only will this save hundreds of dollars in the long run, it can be really invigorating to eat the food you harvested yourself.
Eat less meat
Try going meat free for a week and seeing the difference it makes on your health (and your wallet). You can keep the recipes simple with black bean burgers or this black bean salad, or try something a bit more complicated like this stuffed zucchini with herbed orzo, almonds and fresh tomato sauce.
Be creative
Finally, to eat healthy while on a budget you just have to dive right in and do it. Get creative with your recipes, shop at local stores or farmers markets to find deals and scour the internet for drool-worthy, healthy recipes to add to the mix.
More Modern Mom
Modern Mom: Food and recipe ideas for toddlers
Modern Mom: 10 Heart-healthy foods for kids
Modern Mom: The importance of vitamin C for your kids