Stuffed pizza quesadillas
In this version of a stuffed pizza, pita bread is stuffed with your favorite pizza toppings and grilled quesadilla style for a super-easy kid-friendly dinner.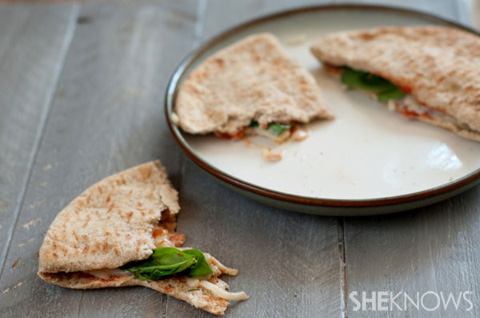 Make this super-easy lunch or dinner that will make kids happy. Soft pita bread is stuffed with tomato pizza sauce, baby spinach and mozzarella cheese then lightly heated in a pan creating this fun pizza quesadilla. Feel free to get creative with fillings and even allow your little ones to help make their own.
Stuffed pizza quesadillas recipe
Yields 4 servings
Ingredients:
4 pita breads
1/2 cup pizza sauce
1 cup shredded mozzarella cheese
1 cup fresh baby spinach
Directions:
Slice each pita bread in half. Be careful not to tear it.
Divide the pizza sauce, mozzarella cheese and baby spinach between each of the halves of pita bread.
Heat a skillet over medium heat and spray the pan with nonstick cooking spray.
Place 2 pita halves in the pan cooking 2 to 3 minutes per side or until the cheese is melted repeating with remaining pitas.
Serve the pizza quesadillas warm with an optional side of pizza sauce for dipping.
More pita recipes
Chicken taco pita
Grilled chicken pitas with tzatziki sauce
Greek salad pita pizzas