Leek pasta with bacon
Leek pasta with bacon comes together in minutes, serves an army and tastes so good you'll always want seconds.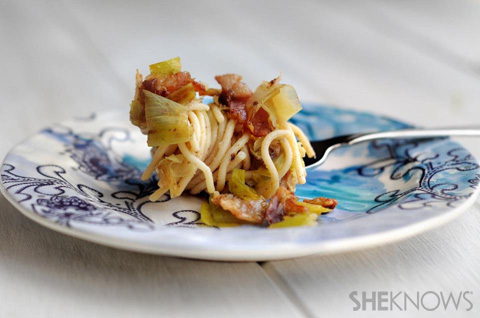 Leek pasta with bacon
Serves 8
Ingredients:
1 pound spaghetti
1 pound bacon, chopped
4-6 leeks, white and light green parts only
Salt and pepper to taste
Parmesan cheese, garnish (optional)
Directions:
In a large cold skillet, add the bacon and turn the burner to medium heat.
Cook the bacon, about 10 minutes, stirring occasionally until crisp.
While the bacon is cooking, slice the leeks in half lengthwise and then cut into 1/2-inch thick half-moons.
Add the leeks to a bowl of water and allow the sand to wash out.
Drain the leeks until ready to use.
Start boiling a large pot of salted water to cook the spaghetti in and boil the pasta until al dente according to package directions.
When the bacon is finished, remove with a slotted spoon and allow to drain on a towel.
Remove all but 2 tablespoons of the bacon drippings.
Add the leeks to the 2 tablespoons of bacon drippings and season with salt and pepper.
Cook for about 5 to 6 minutes until tender.
Add the pasta to the leeks, tossing to coat, and then sprinkle in the bacon right before serving.
Garnish with Parmesan cheese if desired.
More fantastic ways to cook leeks