Dinner Shortcuts: Southwest skillet dinner
Lots of veggies, lots of Southwest flavor and lots of spicy hamburger. This is the perfect weeknight supper.
If you are looking for a quick weeknight meal just stop here. I made this dish for my husband and he almost devoured the whole pan himself. This skillet supper is packed full of ground beef, spicy tomatoes, green chilies and lots of Southwest flavor.
Southwest skillet
Yields 4 servings
Ingredients: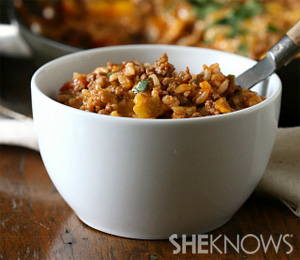 2 cups 90-second rice, cooked
1 pound ground beef
1/2 cup diced yellow onion
1/2 cup diced bell pepper
2 cloves garlic, minced
1 (12 ounce) can spicy Rotel tomatoes
1 (4 ounce) can diced green chilies
1 (8 ounce) can tomato sauce
1 (15 ounce) can ranch-style pinto beans (pinto beans in tomato sauce)
2 teaspoons chili powder
1 teaspoon cumin
Kosher salt and pepper, to taste
1 cup shredded Mexican blend cheese
Directions: 
Prepare rice in the microwave, according to bag directions, and set aside.
In a large skillet set over medium heat, brown meat and add in onion, bell pepper and garlic. Cook until the vegetables start to soften.
Add in tomatoes, chilies, tomato sauce, beans, chili powder, cumin, salt and pepper. Cook together until warmed and stir in prepared rice.
If the dish is too thick thin out with a little beef stock or water.
Sprinkle the dish in cheese, cover and let melt.
More Dinner Shortcuts recipes
Greek meatball sliders recipe
Italian sub crescent roll-ups recipe
Chicken and rice casserole recipe