Dinner Shortcuts: Asian pork noodle skillet
Use up those ramen noodles by adding frozen vegetables and lots of marinated pork.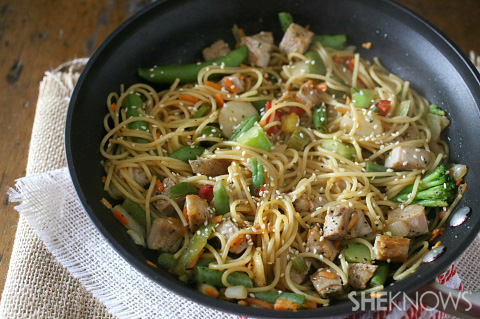 I love making my own stir-fry at home because even though takeout is not expensive I don't want to always order in. This simple Asian pork skillet is super delicious and can be ready in under 30 minutes. Plus it's a great way to use up leftover pork chops and frozen vegetables.
Asian pork noodle skillet
Yields 4 servings
Ingredients:
3 tablespoons sesame oil
1 cup frozen vegetable stir-fry mix
3 cloves garlic
2 cups leftover spaghetti noodles
1/4 cup soy sauce
2 boneless pork chops, diced and precooked
Directions:
In a large skillet set over medium-high heat, add sesame oil.
Once the oil is hot, add stir-fry mix and garlic. Saute until vegetables just start to soften.
Add in noodles, soy sauce and diced pork. Saute until fragrant and everything is warmed through.
More Dinner Shortcuts recipes
Taco pizza
Cheeseburger biscuit pizza
Beef taco skillet supper