Dinner Shortcuts: Baked sausage and vegetable spaghetti
Clean out the refrigerator and use up all those vegetables. We packed this baked spaghetti with lots of vegetables and some spicy Italian sausage.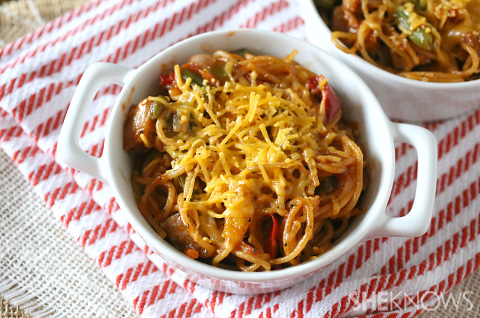 My fridge is almost overflowing with produce. I can't help but buy it when it's on sale and then suddenly I need to use it up before it goes bad. This baked spaghetti dish is packed full of vegetables and lots of fresh chicken Italian sausage.
Baked sausage and vegetable spaghetti
Yields 9 x 13-inch dish
Ingredients: 
1/2 pound spaghetti
1 (28 ounce) jar marinara sauce
1 (16 ounce) bag frozen vegetable mix, steamed
1 pound chicken Italian sausage, cooked
2 cups ricotta cheese
2 cups shredded cheese
Directions:
Preheat oven to 350 degrees F and spray a 9 x 13-inch baking dish with nonstick spray.
Cook spaghetti according to box directions and drain. Add back to the pot and stir in 1-1/2 cups marinara sauce.
In the prepared dish add 1/2 cup sauce, half the spaghetti, half the vegetables, half the sausage, half the ricotta and half the shredded cheese. Repeat layers again but add any remaining sauce to the top before topping with cheese.
Bake for 30 minutes covered and 15 minutes uncovered.
More Dinner Shortcuts recipe
Creamy tomato tortellini soup recipe
Italian sub crescent roll-ups recipe
Pesto pasta with peas and chicken sausage recipe