Angle food cake churro bites
After you see how simple this recipe is, you're going to want to run into the kitchen and make it right away. You get all the flavor of a churro in little bite-size chunks.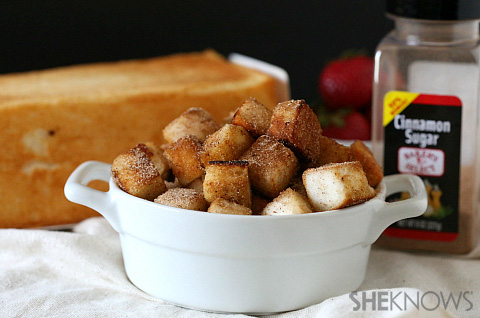 Growing up the only thing we used angel food cake for was strawberry shortcake. While I'm still a big fan of the classic summertime dessert, it's nice to have a new sweet recipe that uses up angel food cake and is just as delicious. These little churro angel food cake bites are crazy addictive and perfect alone or served on top of ice cream.
Angel food cake churro bites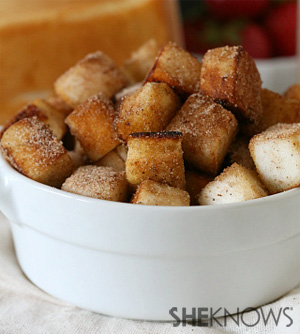 Yields 4 servings
Ingredients:
1 loaf angel food cake, cut into 1-inch squares
1 stick unsalted butter
1 cup cinnamon sugar (white sugar and cinnamon mixed together)
Directions: 
Cut a loaf of angel food cake into 1-inch cubes.
In a large, high-sided skillet melt butter over medium heat. Once the butter is melted add in angel food cake and cook until toasted on all sides.
Remove angel food cake bites out of the pan and into a large bowl. Sprinkle cinnamon sugar over the top the angel food cake and toss.
Let cool slightly and enjoy.
More recipes using angel food cake
Easy lemon trifle
Fruit and lemon layered angel food cake
No-bake cherry cheesecake