Dinner Shortcuts: Chicken cheesy pasta
Pasta is great but it gets better when it's combined with fresh vegetables, lots of grilled chicken and cheese. Simple and delicious.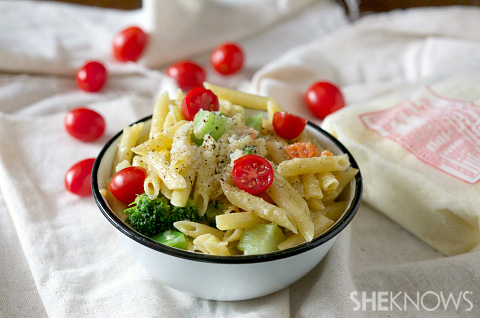 I have always had a love for anything cheese and chicken. Especially when that also throws in pasta. I actually didn't eat a lot of pasta growing up but now that I'm an adult, I'm taking advantage of all that missed time. I love this pasta dish because it's packed full of vegetables, grilled chicken and topped with lots of cheese. This is a meal pleaser for the whole family.
Chicken cheesy pasta
Yields 2-4 servings
Ingredients:
1/2 pound pasta, cooked
1/2 stick unsalted butter
1 tablespoon olive oil
1 small yellow onion, diced
1 clove garlic, minced
1 cup frozen vegetables, steamed and chopped (we used broccoli, cauliflower and carrots)
2 grilled chicken breasts, diced
1/2 cup grated Parmesan cheese
Directions:
In a large pot, fill with water and set over high heat. Once the water is boiling add pasta and cook until al dente, following box directions.
While the pasta is cooking start your sauce.
In a large skillet melt butter and olive oil over medium heat.
Add in onions and garlic. Sauté until the onions are translucent and the garlic is fragrant. Add in tomatoes and steamed vegetables and sauté until the tomatoes just start to soften. Lower heat until low and keep warm while the pasta finishes cooking.
Once the pasta is fully cooked, drain and add back to the pot. Add in cooked chicken and sprinkle with 1/2 cup grated Parmesan cheese and stir.
Add sauce to the pasta. Toss to combine and drizzle with more olive oil if the pasta is too dry. Season with salt and pepper if needed.
Serve warm with a sprinkle of extra grated Parmesan cheese if desired.
More Dinner Shortcuts recipes
Greek meatball sliders recipe
Italian sub crescent roll-ups recipe
Chicken and rice casserole recipe