Dinner Shortcuts: Kielbasa Reuben sandwich
This fun sandwich is packed full of flavor. Kielbasa sausage, sauerkraut and cheese never tasted so good.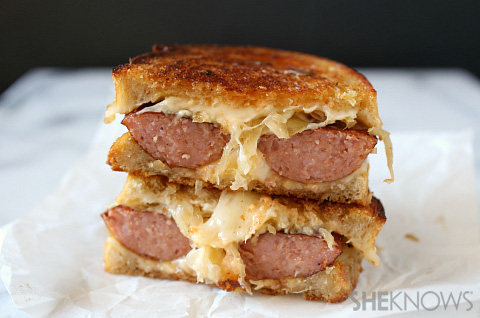 I have always had a thing for Reuben sandwiches. I really think it's the tangy sauerkraut that sucks me in. This sandwich is the perfect use for leftover kielbasa and will be sure to please the whole house.
Kielbasa Reuben sandwich
Yields 1 sandwich
Ingredients: 
1 (6 inch) piece kielbasa sausage
2 slices rye bread
1 tablespoon unsalted butter
2 slices Swiss cheese
1/3 cup sauerkraut
Directions:
Cut kielbasa in half long ways and fry until crispy in a skillet set over medium-high heat.
Butter 1 side of each slice of bread and flip bread over to the unbuttered side. Lay 2 slices of cheese on the bread, followed by the kielbasa, sauerkraut and remaining 2 slices of Swiss cheese.
Top the sandwich with the remaining slice of bread (butter sides out) and add to the skillet you used to fry your sausage. Cook on medium-low heat until the sandwich is golden brown on the bottom, flip and cook until the other side is golden brown as well.
Cut in half and serve with Russian dressing if desired.
More Dinner Shortcuts recipes
Greek meatball sliders recipe
Italian sub crescent roll-ups recipe
Chicken and rice casserole recipe