Ooey-gooey monkey puzzle muffins
Still virtually unknown outside the U.S., monkey bread is 100 percent American born and bread (get it?). These monkey puzzle muffins are even easier than the kind your mom used to serve, but just as delish.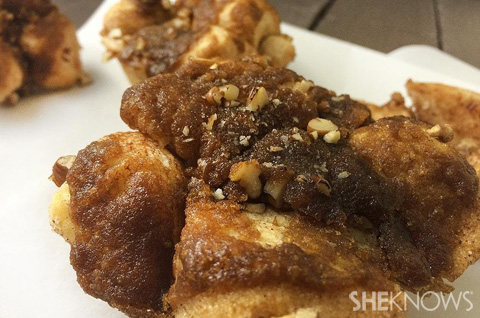 Forget trying to remember which kind of yeast you need. These monkey puzzle muffins are made with refrigerator biscuit dough, and except for making the syrup (which is molten-hot when it comes off the stove), your kids can even make these little guys themselves.
Ooey-gooey monkey puzzle muffins
Yields 8
Ingredients:
1 (16.3 ounce) can refrigerator biscuit dough (I like the flaky Pillsbury Grands biscuits)
1/2 cup white sugar
1 teaspoon ground cinnamon
1/4 cup unsalted butter
1/2 cup dark brown sugar, packed
1/4 cup (heaping) pecans, finely chopped
Directions:
Place a large piece of aluminum foil on the bottom rack of your oven. It should be large enough to catch any overflow from the muffin tins. Preheat the oven to 375 degrees F and line 8 cups of a 12-cup muffin tin with cupcake liners and spray them with cooking spray.
Mix the white sugar and the cinnamon in a zip-close bag. Using a knife or pizza cutter, cut each biscuit into 8 equal pieces. One biscuit at a time, drop the biscuit pieces in the bag and shake it to coat them with the cinnamon-sugar mixture.
Arrange the pieces into the greased muffin cups (8 pieces per cup), sprinkling in bits of pecan among them. Continue until all the biscuits are arranged and set it aside while you make the syrup.
In a small saucepan over medium heat, melt the butter with the brown sugar, allowing it to come to a boil for about 60 seconds. Spoon the syrup over your unbaked monkey puzzle muffins.
Bake them for 8 to 11 minutes or until the biscuits are cooked through. They'll puff up a lot, so make absolutely certain you didn't skip the step of lining the bottom rack with foil in case anything drips over. Allow them to cool before removing them from the liners.
More sweet bread recipes
Boozy banana bread
Lighter king cake recipe
Quinoa carrot cake recipe