French toasties with mascarpone dip
The only thing cuter than these French toasties is probably the sight of your kid's giggling while they dip them into the creamy dip and pop them into their mouths. Bite-size French toast, I mean really, what's not to love?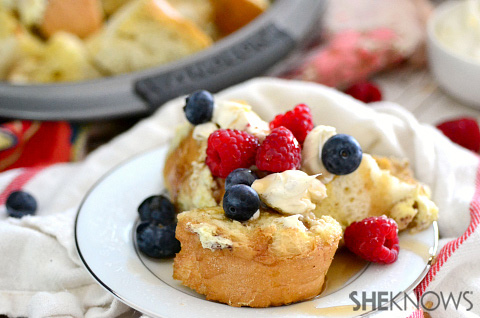 Unlike regular French toast, these adorable, crispy little toasties don't need a fork, knife or even a plate. In fact, you can eat these with your fingers or even use a skewer for a fun "mock camping" breakfast. Either way, your kids will love these about as much as you love the little clean up.
French toasties with mascarpone dip
Serves about 6-8
Ingredients: 
1/2 loaf Italian bread
2 eggs
1/4 cup heavy cream
1/4 cup 2 percent milk
1/2 teaspoon cinnamon
1/2 teaspoon vanilla
Raspberries
Blueberries
Maple syrup
For the dipping sauce:
1/2 cup mascarpone
1 tablespoon honey
1/4 teaspoon vanilla
1 tablespoon heavy cream
1/4 teaspoon cinnamon
Directions: 
Preheat oven to 350 degrees F. Grease an 8 x 8-inch glass baking dish with nonstick cooking spray.
Slice the bread into sticks and then in half (so you have bite-size pieces).
Whisk the eggs, heavy cream, 2 percent milk, cinnamon and vanilla. Pour the mixture over the bread bites to liberally coat the bread with milk mixture.
Bake for about 15 to 20 minutes, or until tops are browned and crispy.
More kid-friendly breakfast recipes
How to make shaped pancakes for kids
3 Easy breakfast pizzas kids will love
Fruit tacos with chocolate tortillas recipe