Broiled tilapia Parmesan
Broiled tilapia Parmesan is a 15-minute meal you can feel good about enjoying. Serve with a fantastic salad and spaghetti for a delicious and quick meal.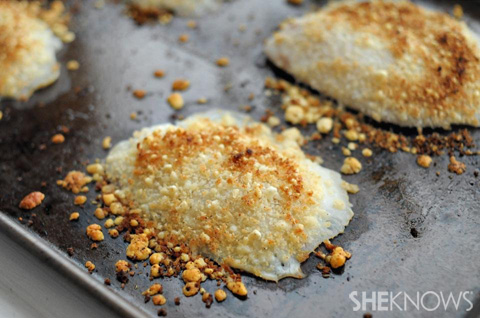 Broiled tilapia Parmesan
Serves 4
Ingredients:
4 (6 ounce) tilapia fillets, patted dry
1 tablespoon olive oil
1/4 cup panko breadcrumbs
1/4 cup grated Parmesan cheese
1/2 teaspoon salt
1/2 teaspoon pepper
Directions:
Heat the oven to 425 degrees F.
Spread the olive oil on a baking sheet and gently brush each fillet in the oil.
Toss together the cheese, breadcrumbs, salt and pepper.
Top each fillet with the breadcrumb mixture.
Bake for 10 minutes, then turn the oven to broil and broil until the topping is golden brown and crunchy.
Serve immediately.
More tilapia recipes for a busy weeknight
Grilled tilapia with blueberries
Orange glazed tilapia
Chile-rubbed tilapia