Roasted strawberry basil chicken
Roasted strawberry basil chicken brings together the favorite flavors of summer in a fantastic dinner everyone will love.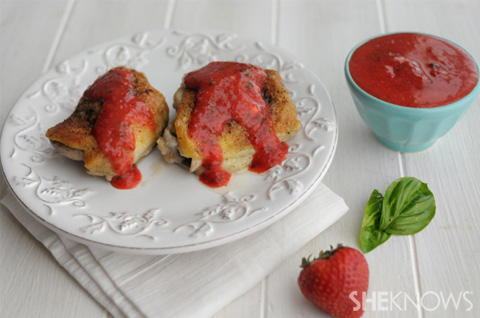 Roasted strawberry basil chicken
Serves 4
Ingredients:
8 bone-in chicken thighs
1 cup dry white wine
1 tablespoon salt
1/2 tablespoon black pepper
1 pint strawberries, washed
3/4 cup fresh chopped basil
Extra salt and pepper (optional)
Directions:
Preheat oven broiler.
Place the chicken thighs into a 9 x 13-inch baking pan, skin side down.
Broil the chicken for 5 minutes, then turn the chicken over.
Season with salt and pepper, and place under broiler for 5 more minutes.
Pour the white wine into the pan and lower the oven temperature to 425 degrees F.
Spread the strawberries out on a sheet pan.
Place the chicken and strawberries, side by side, back into the oven for 30 to 35 minutes, stirring the strawberries occasionally to prevent burning.
Remove the chicken and strawberries from the oven.
Cover the chicken with foil to keep warm and to let the juices redistribute.
In a food processor combine the roasted strawberries and the basil.
Pulse until combined and a smooth sauce has formed.
Season with salt and pepper if desired.
Serve the chicken hot with the roasted strawberry basil sauce on top.
More roasted strawberry recipes
Roasted strawberry hot fudge milkshake
Roasted strawberry and peach cobbler
Balsamic-roasted strawberry parfaits