Modern Mom: Keeping kids hydrated
Kids are more likely than adults to become dehydrated (think about how hard they play). As a mom, it's our job to help keep our kids hydrated during these hot summer months.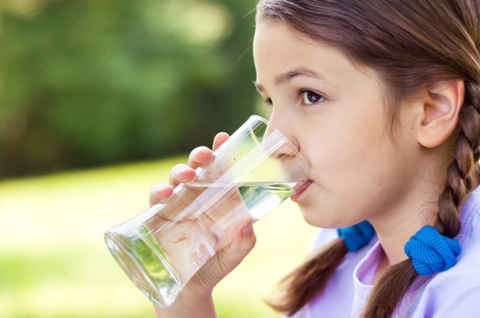 Photo credit: gordana jovanovic/iStock/360/Getty images
So, why are kids more likely to become dehydrated than adults? For starters, they don't often remember to drink water. They're so busy and focused on playing that unless you force them to sit down for a minute and have a drink, they most likely won't do it on their own. Kids' bodies also don't cool down as fast as adults' bodies. This trait paired with hot summer days and plenty of play can lead to a deadly disaster if you're not careful.
Symptoms of dehydration
Signs of dehydration include being thirsty, feeling lethargic, having a dry mouth, crankiness or vomiting. According to WebMD, you should call 9-1-1 if a child under 12 has an extremely dry mouth or no tears, is lethargic, isn't able to think clearly or passes out. If you think your child is mildly dehydrated, contact your pediatrician immediately.
This year alone, 2.2 million children will die of dehydration caused by diarrhea, with most of them being age two years or younger (remember, dehydration isn't only caused from playing outside, it's also caused from being sick). Always be on the lookout for early warning signs of dehydration — including a flushed face, warm skin, cramping in the arms or legs and headaches.
Tips on keeping your kids hydrated
The best way to keep your kids hydrated is to constantly offer them water. Water is absolutely the best drink to keep your kids hydrated. Though sports drinks can also help your kids replenish their fluids, they typically contain sugar and high levels of sodium (some even contain caffeine, so make sure to read the label). Other ways to help keep your kids hydrated include:
Have your kids start their day and end their day with a large glass of water
Avoid caffeinated beverages, such as sodas and teas
When playing outside, offer kids water every 20 minutes (The American Academy of Pediatrics suggests 5 ounces of water every 20 minutes for kids weighing 88 pounds or less)
Order water with all meals when dining out (this tip saves money, too)
Offer water before, during and after sports games and trips to the park
Talk about water — explain to your child why they need to drink it and what can happen if they don't get enough
For toddlers, add water to their milk as a way to "sneak" it in
Foods high in water
In the summer with busy, active kids, there's really no such thing as "too much" water. Consider offering hydrating foods, in addition to water, to your kids as snacks. Water-rich foods include watermelon, grapefruit, yogurt, homemade slushies, cucumbers and celery. You can also make fruit smoothies blended with a variety of fruits, juice and ice, or homemade ice cream with low-fat milk instead of whole (we love this dark chocolate peanut butter swirl ice cream).
More Modern Mom
Modern Mom: Healthy after-school snacks the kids will love
Modern Mom: Teaching kids table manners
Modern Mom: 10 Heart-healthy foods for kids