Dinner Shortcuts: Bacon-curry chicken salad sandwich
Chicken salad just got a makeover with lots of crispy bacon and curry powder.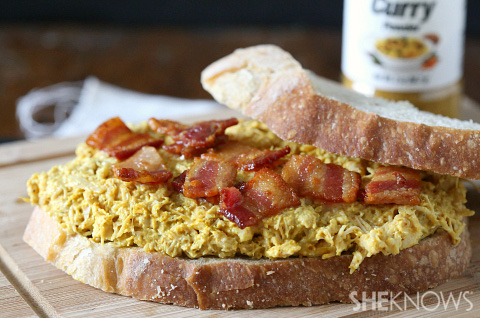 I love chicken salad for a quick weekday lunch or dinner. This curry-seasoned version is packed full of flavor and gets even better when topped with super crispy bacon.
Bacon curry chicken salad sandwich
Yields 1 sandwich
Ingredients:
1 (12.5 ounce) can chicken, drained
1/4 cup mayonnaise
2 tablespoons plain Greek yogurt
2 teaspoons curry powder
1/2 teaspoon turmeric powder
Pinch kosher salt
2 slices bread
2 slices crispy bacon
Directions:
In a medium-sized mixing bowl mix together chicken, mayonnaise, Greek yogurt, curry powder, turmeric powder and salt. Mix together until completely combined and creamy.
If you desire more creaminess, you can add more Greek yogurt or mayonnaise.
Add chicken salad to the top of 1 slice of bread, cover with bacon and top with remaining slice of bread.
More Dinner Shortcuts recipes
Greek meatball sliders recipe
Italian sub crescent roll-ups recipe
Chicken and rice casserole recipe