Cardamom ginger peach cobbler
Cardamom ginger peach cobbler is warm and comforting, and a perfect match with cold vanilla ice cream.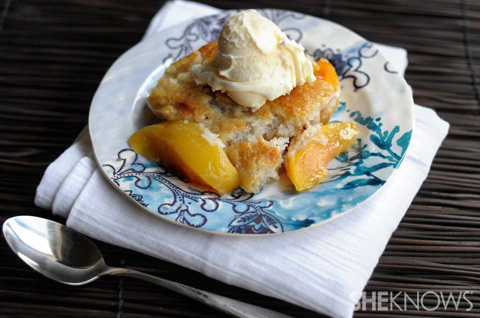 Cardamom ginger peach cobbler
Serves 8
Ingredients:
6 cups fresh-sliced peaches
2 cups granulated sugar, divided
1 tablespoon vanilla extract
1 stick butter, melted
1 cup all-purpose flour
1 cup 2 percent milk
1 tablespoon baking powder
1/4 cup chopped crystallized ginger
1 teaspoon ground cardamom
Directions:
Preheat oven to 375 degrees F.
Pour the butter into a 9 x 13-inch dish.
Whisk together the flour, 1 cup of sugar, the milk, baking powder, salt, crystallized ginger and cardamom. Set aside.
In a large saucepan cook the peaches, remaining cup of sugar and vanilla over medium-high heat until the sugar has dissolved completely.
To assemble, pour the batter on top of the melted butter and then pour the peach mixture on top of the batter.
Bake at 375 degrees F for 45 minutes until the crust is golden brown.
Let sit 10 minutes before serving hot.
More cobbler favorites
3-Ingredient peach cobbler
One-skillet peach cobbler
Vegan blackberry cobbler