4 Paleo recipes for kids
Kid's aren't known for wanting to eat healthy foods. In fact, the ones I know are always more keen to the neon green Cheetos or fake mac 'n' cheese. That's why when you decide to live a healthier, more natural and clean "paleo" lifestyle, it's best to not tell your kids and just make them dishes you know they'll love, like carne asada steak and Buffalo wings.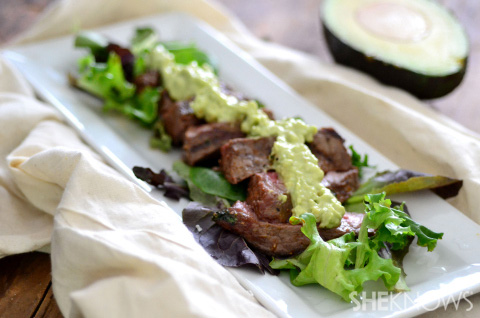 Your kids will be so excited to be digging into super-fudgy brownies and fluffy pancakes that they won't even think to ask "are these healthy?" In fact, they'll be so busy eating, they won't even notice that you're eating the exact same thing they are. Paleo was never so easy.
Carne asada steak with paleo avocado dressing
Serves about 4
Ingredients: 
8 ounces filet or skirt steaks
1/4 cup white vinegar
1/4 cup olive oil (good quality)
2 limes, juiced
3 cloves garlic, minced
1 teaspoon salt
1 teaspoon cracked black pepper
1 teaspoon chili powder
1 teaspoon cumin
2-3 tablespoons chopped cilantro
1 batch avocado cream sauce (use this recipe)
Lettuce
Directions: 
Preheat a grill pan with nonstick cooking spray.
In a bowl, whisk the vinegar, olive oil, lime juices, garlic cloves, salt, black pepper, chili powder, cumin and chopped cilantro. Place the steaks into the marinade and liberally coat them. Cover with a towel and chill for about 2 hours.
Once chilled, remove from the marinade and place on the grill. Grill over medium heat for about 5 to 6 minutes on each side for medium rare. Let rest about 5 minutes and then slice.
Serve over lettuce and drizzle with avocado cream.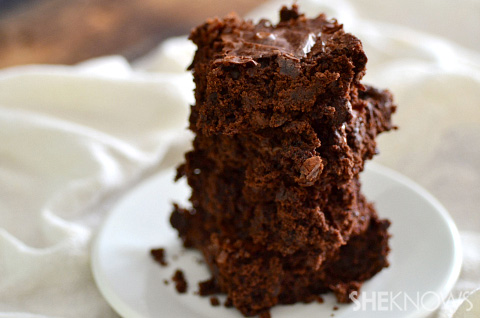 Fudgy brownies
Slightly adapted from Living Healthy With Chocolate.
Serves about 6 to 8
Ingredients: 
1/3 cup almond flour
2-1/2 tablespoons coconut flour
1/3 cup unsweetened cocoa powder
1 teaspoon baking soda
Dash of salt
1 stick butter, softened
2 large eggs, room temperature
3 tablespoons raw, organic honey
2 tablespoons cashew butter
1/4 cup + 2 tablespoons dark chocolate chips
1 teaspoon vanilla extract
Directions: 
Preheat oven to 350 degrees F. Grease an 8 x 8-inch glass baking dish with nonstick cooking spray.
In a medium bowl, whisk the almond flour, coconut flour, cocoa powder, baking soda and salt.
Melt the butter in a saucepan over medium heat. Add the butter and melt for about 3 to 4 minutes. Remove from heat and let sit for a few minutes. Pour into another bowl and whisk with eggs, honey, vanilla and cashew butter.
Mix in the flour mixture to the butter mixture and fold to combine. Gradually stir in the chocolate chips.
Bake for about 24 to 25 minutes, or until set. Serve warm.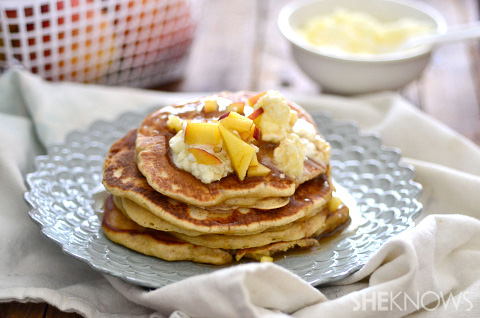 The best paleo peach pancakes
Yields about 8 pancakes
Ingredients: 
3 large eggs
1/2 cup almond milk
1 tablespoon raw organic honey
1 teaspoon vanilla extract
1/2 cup coconut flour
1/2 cup almond meal
1/2 teaspoon baking powder
1/2 teaspoon baking soda
2/3 cup chopped peaches
Directions: 
Preheat a griddle on medium-high heat.
In large bowl, beat the eggs, almond milk, honey and vanilla together. In another bowl, whisk the coconut flour, almond meal, baking powder and baking soda. Add the dry ingredients to the wet ingredients and stir to combine.
Mix in the peaches. Scoop the batter, 1/4 cup at a time, onto the prepared griddle. Cook until pancakes are golden brown on each side, about 5 to 6 minutes.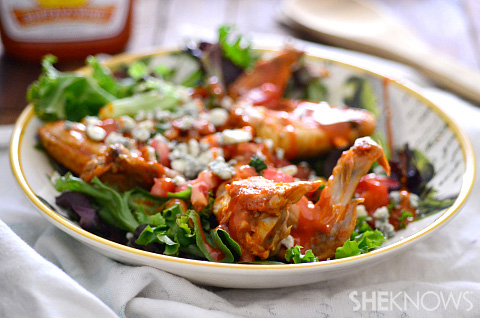 Buffalo chicken wing salad
Serves about 6
Ingredients: 
1 pound chicken wings or thighs
1 cup Buffalo wing sauce
4 tablespoons honey
Salt and pepper
6 cups lettuce
6 tablespoons blue cheese
1 large tomato, chopped
1/2 cup chopped celery
1 carrot, chopped
Ranch or blue cheese for dressing
Directions:
In a 5-quart slow cooker place the chicken wings, 3/4 cup Buffalo wing sauce, honey and salt and pepper. Stir until the wings are well coated. Cook on low for about 6 to 8 hours. Remove from sauce and toss with remaining 1/4 cup Buffalo sauce.
Mix the salad greens, celery and carrot together in a large bowl. Top the salad with Buffalo wings and 6 tablespoons of blue cheese. Drizzle with more sauce or ranch or blue cheese.
More paleo recipes
A brunch menu fit for a caveman
7 Easy paleo dinner ideas
Break out the skillet: Paleo blueberry crisp