Baked eggplant Parmesan
Baked eggplant Parmesan is a healthier take on a family favorite. Top with breadcrumbs for the perfect take on the traditionally fried Italian dish.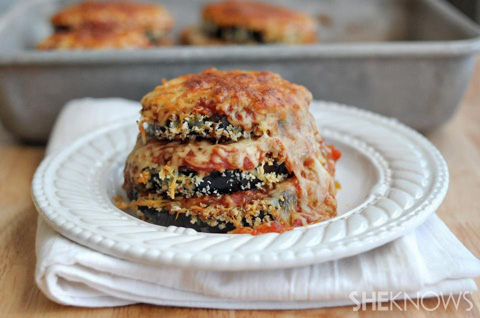 Baked eggplant Parmesan
Serves 6
Ingredients:
1 large eggplant, cut into 1/4-inch thick rounds
1 cup panko breadcrumbs
1/2 cup grated Parmesan cheese
1 tablespoon Italian seasoning
1 teaspoon black pepper
2 whole eggs
2 cups prepared marinara sauce
1/2 cup shredded mozzarella cheese
Directions:
Preheat oven to 400 degrees F.
Line a baking sheet with parchment paper.
Whisk together the eggs in 1 bowl.
Stir together the breadcrumbs, Parmesan cheese, Italian seasoning and black pepper in another bowl.
Before dredging wipe each eggplant slice dry with a paper towel.
Turn to coat in the egg mixture, then turn to coat with the breadcrumb mixture, and then lay the slices about 1/2-inch apart on the prepared baking sheet.
Repeat until all of the eggplant slices are coated.
Bake at 400 degrees F for 20 to 25 minutes, carefully turning halfway, until the eggplant is tender and the breadcrumb topping is browned.
Remove from the oven.
Spread 1/4 cup of the marinara sauce into the bottom of a 2-quart baking dish.
Create 1 layer of eggplant slices, then another layer of marinara, and repeat until all of the eggplant is used up.
Top with mozzarella cheese and bake for about 10 minutes until the cheese is melted and bubbly.
Enjoy hot.
More outstanding eggplant dishes
Eggplant pumpkin peanut curry
Baked pasta in an eggplant crust
Caponata