Dinner Shortcuts: Chicken penne bake
Chicken isn't just for sandwiches or soup. It's perfect in pasta and even better when baked in a rich tomato sauce and topped with lots of cheese.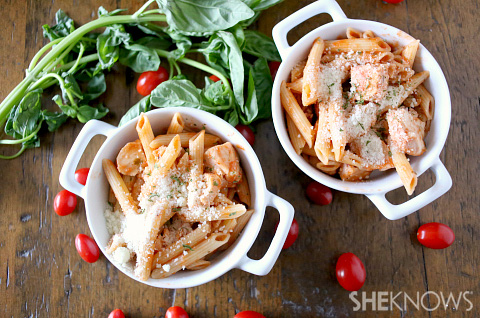 Sometimes dinner in my house is just a quick rush to see what can get cooked the fastest. I work from home but spend my days writing and cooking and my husband always gets home late. So by the time that dinner actually enters our mind we are both tired from the day and dinner just seems too hard to throw together. This quick and easy chicken penne bake is the perfect leftover use of chicken breast and can be ready in no time.
Chicken penne bake
Yields contents of 9 x 13-inch pan
Ingredients: 
4 cooked chicken breasts, cubed
1 pound pasta, cooked but still hot
1 (26 ounce) jar tomato sauce
1 cup halved cherry tomatoes
1 cup grated Parmesan cheese
Directions:
Preheat oven to 400 degrees F.
In a large bowl, mix together chicken, pasta, tomato sauce, cherry tomatoes and 1/2 cup grated Parmesan cheese.
Add to a 9 x 13-inch casserole dish and top with remaining 1/2 cup grated Parmesan cheese.
Bake for about 20 minutes until the pasta mixture is bubbling and hot.
More Dinner Shortcuts recipes
Greek meatball sliders recipe
Italian sub crescent roll-ups recipe
Chicken and rice casserole recipe