Root beer-spiked baked beans
This easy-to-follow recipe transforms simple canned beans into a surprisingly sophisticated side dish for any picnic or potluck with almost no effort.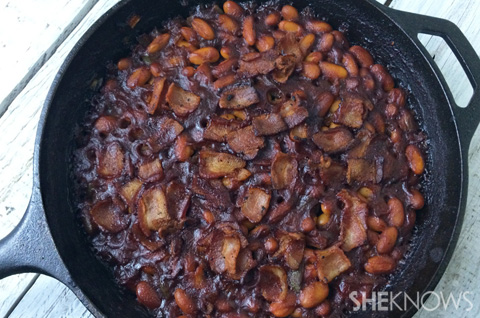 I love this recipe because it lets you make real homemade baked beans with such minimal effort. There are only a few things to chop, but most of it's just opening cans and measuring ingredients. And the root beer and ginger give it such a deep, rich and somewhat spicy flavor, you'll wonder why you ever opted for canned baked beans for the extra 10 minutes of prep time.
Root beer-spiked baked beans recipe
Ingredients:
4 pieces thick-cut bacon, cut into 1-inch squares
1/2 large white onion, finely chopped
2 garlic cloves, finely chopped or grated
1/2 green pepper, finely chopped
1 (16 ounce) bottle root beer (not diet and preferably artisanal) 
2 teaspoons apple cider vinegar
3 tablespoons tomato paste
1 tablespoon whole-grain mustard
1 tablespoon molasses
1 tablespoon brown sugar
2 (15 ounce) cans cannellini beans, drained and rinsed
1 teaspoon fresh ginger, peeled and finely chopped or grated
1/2-1 teaspoon crushed red pepper flakes
Salt and pepper to taste
Directions:
Preheat the oven to 400 degrees F.
In a large cast-iron skillet or oven-safe pan, cook the bacon pieces until most of the fat has rendered into the pan. Using a slotted spoon, remove the bacon pieces and transfer them to a paper towel-lined plate (the bacon will be used to top the baked beans before being placed in the oven).
Add the chopped onions, garlic and green pepper to the pan with the bacon grease, and cook in bacon fat until the vegetables become tender.
Carefully pour in the bottle of root beer and mix in the apple cider vinegar, tomato paste, mustard, molasses, brown sugar and cannellini beans. Simmer the beans for 5 to 7 minutes until the mixture just starts to thicken and add the ginger, pepper flakes, salt and pepper.
Remove from the heat and top with the bacon pieces, then transfer it to the oven and cook uncovered for 30 minutes or until the mixture has reached the desired consistency.
More side dish recipes
Mexican street corn
3 Authentic Southern-style barbecue sides
3 Perfect sides for your fish fry