Peach pie oatmeal
Dessert and breakfast meet in this peach pie oatmeal.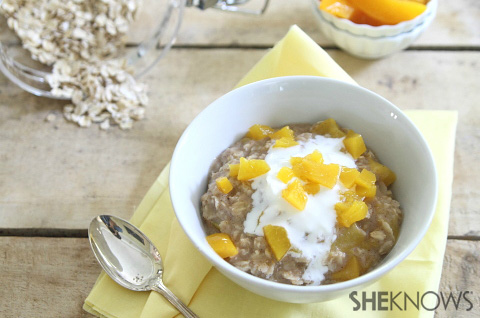 Pie for breakfast? Well, sort of. This oatmeal has all the flavors of peach pie even down to that hint of fresh lemon juice with the fruit. Not a bad way to start the day.
Peach pie oatmeal
Serves 2
Ingredients:
2 cups milk
1 cup oats
1 cup peaches (thawed frozen, drained canned or fresh), chopped
1/2 teaspoon cinnamon
1/4 teaspoon nutmeg
Pinch of salt
Juice of half a lemon
2 tablespoons maple syrup
1/2 teaspoon vanilla extract
Vanilla yogurt for topping
Directions:
Bring milk to a simmer over medium heat in a saucepan.
Add oats and peaches and cook, stirring frequently until most of the liquid has been absorbed by the oats, about 3 to 5 minutes.
Add the cinnamon, nutmeg, salt, lemon juice, maple syrup and vanilla and stir to combine. Cook for another minute and transfer to serving dishes.
Top with more chopped peaches and vanilla yogurt.
More oatmeal recipes
How to make overnight oat bars
Easy carrot cake oatmeal
Baked banana oatmeal