Banana waffle bites with maple yogurt sauce
Bring some bite-sized fun to the breakfast table with these banana waffle bites.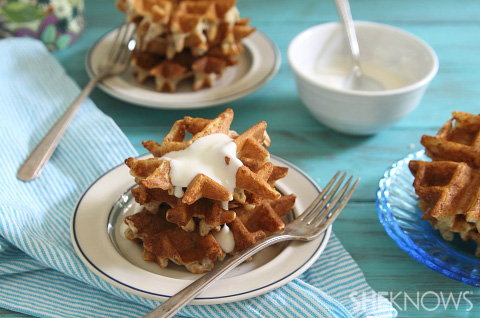 Waffles are my favorite breakfast food. I thought a Belgian waffle maker was a huge waste of cabinet space but after the first breakfast I was sold. If there's anything better than waffles, it's waffle bites. Bite-sized food is just fun and when you cover it in a simple maple yogurt sauce, breakfast is pretty darn good.
Banana waffle bites with maple yogurt sauce
Serves 4
Ingredients:
3/4 cup pancake/waffle mix
2 tablespoons ground flax seed
3/4 cup milk (any kind)
1 mashed ripe banana
1 tablespoon melted coconut oil
1/4 cup plain or vanilla yogurt
1-2 tablespoons maple syrup (depending on your sweetness preference)
Directions:
Preheat waffle iron.
Combine all ingredients in a bowl and whisk until smooth.
Pour mixture onto a waffle iron so that only about 1/3 of the iron is covered in the batter. Cook according to your waffle iron.
Repeat with remaining batter.
To make the yogurt sauce combine the yogurt and maple syrup in a small bowl and stir together.
Pour sauce on top of waffle bites and serve warm.
More waffle recipes
Funfetti cake waffles
Five-spice vegan waffles
Fun French toast waffles