Dinner Shortcuts: Roasted vegetable and chicken salad
Salad doesn't have to be boring. This delicious roasted vegetable and chicken salad is perfect for summer dinner al fresco.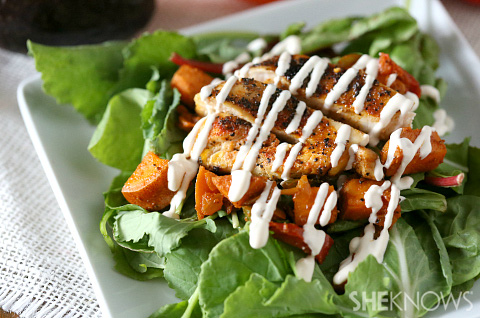 In the summer I'm such a sucker for eating salads for dinner. This easy salad uses leftovers to make dinnertime quick and super simple. You can use whatever leftover roasted vegetables you have on hand but my favorites are sweet potatoes and peppers. They pack tons of flavor and lots of delicious nutrients.
Roasted vegetable and chicken salad
Yields 2 servings
Ingredients: 
4 cups mixed greens
2 cups roasted vegetables, warmed
2 cooked chicken breasts, sliced
Ranch dressing
Directions: 
Add 2 cups mixed greens per plate and top with 1 cup each roasted vegetables and 1 chicken breast.
Drizzle with desired amount of ranch dressing and enjoy.
Note: This salad is best served right away. Since the vegetables are warm, you don't want it to soften the lettuce too much.
More Dinner Shortcuts recipes
Taco pizza
Cheeseburger biscuit pizza
Beef taco skillet supper