Fruity Pebbles funfetti cake
There's nothing that makes you feel more like a kid than a big slice of funfetti cake. No matter what kind of day you're having, you can't help but smile when you're given a pretty cake with lots of sprinkles. But, here's an idea: What if you replaced the sprinkles with something even more kid friendly, like Fruity Pebbles?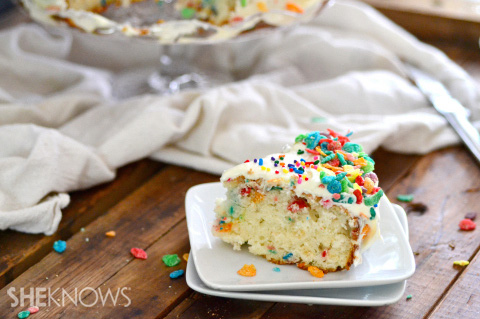 You know the cereal, the ones your kids are always begging you to buy when you wheel that creaky shopping cart down the over-stimulating cereal aisle. Since the cereal is sweet enough to be a dessert anyway, why not actually make a dessert with it? Forget milk, mix this bright and cheery cereal into this fool-proof white cake mix.
Fruity pebbles funfetti cake
Serves about 12
Ingredients: 
For the cake: 
1-1/2 cups cake flour
1/2 cup milk
1/2 cup butter, softened
1 cup white sugar
1/2 tablespoon baking powder
3 egg whites
3/4 teaspoon white vanilla extract
3/4 cup Fruity Pebbles
For the frosting: 
1 canister vanilla icing
3/4 cup fruity pebbles
2 tablespoons sprinkles
Directions: 
Preheat oven to 350 degrees F. Grease an 8-inch circle pan with nonstick cooking spray.
In a large bowl, whisk the flour and baking powder together.
In another bowl (fitted to a stand mixer), beat the butter and sugar together until creamy. Add the flour mixture to the butter mixture, alternating with the milk (but ending with the flour). Beat until combined. Using a wooden spoon, stir to combine.
In another bowl fitted to a stand mixer, beat the egg whites until stiff peaks form. Fold the mixture into the butter/flour batter.
Gently fold in the Fruity Pebbles. Careful while you mix to ensure the colors don't bleed.
Pour the batter into the cake pan. Bake for about 26 minutes, or until a toothpick inserted in the middle comes out clean.
Remove from pan and let cool completely on a wire cooling rack.
Once cooled, frost completely with the vanilla icing. Sprinkle the fruity pebbles around the rim of the cake and add the sprinkles to the center of the cake. Serve immediately.
More fun cake recipes
Peanut butter starfish cake
Fruit and lemon curd layered angel food cake
Who put tomato soup in my chocolate cake?