Cheddar cauli-tots
These cheddar-packed cauli-tots are a healthy take on tater tots that everyone will love.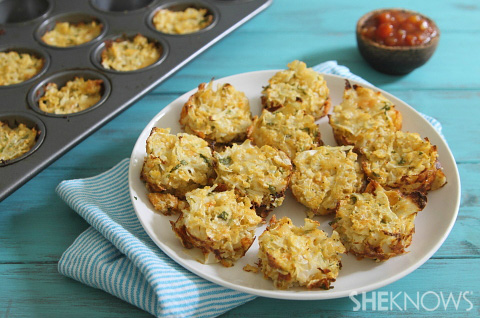 Tater tots have such a special spot in my childhood memories. They were either a special "treat" with dinner or a really exciting school lunch. Of course, that was back when calories didn't matter and metabolism was a word I didn't even know. These cheddar cauli-tots are a healthier version of that childhood treat but still just as delicious and deserve the same excitement.
Cheddar cauli-tots
Serves 6
Ingredients:
1/2 head cauliflower, grated (about 3-1/2 cups)
4 ounces cheddar cheese, grated
1 egg
1/3 cup cornmeal
2 tablespoons milk
2 tablespoons chopped cilantro
1 teaspoon cumin
1/2 teaspoon smoked paprika
1/4 teaspoon cayenne pepper
Salt & pepper
Directions:
Preheat oven to 400 degrees F and grease a mini-muffin tray with baking spray.
Place all the ingredients in a large bowl and toss until thoroughly combined.
Spoon the mixture into the mini-muffin tins pressing down firmly with the back of the spoon.
Bake for about 20 minutes until edges start to turn brown and crispy.
Remove from oven, let cool 10 minutes before carefully running a knife around the tins and popping out the tots.
Serve with salsa, ketchup or guacamole.
More cauliflower recipes
Creamy cauliflower gratin
Cauliflower croquettes
Cauliflower rice