Scrambled egg toasts with bacon confetti
Scrambled egg toasts with bacon confetti are the perfect way to make breakfast fun. Let the kids sprinkle their own confetti for a magical morning.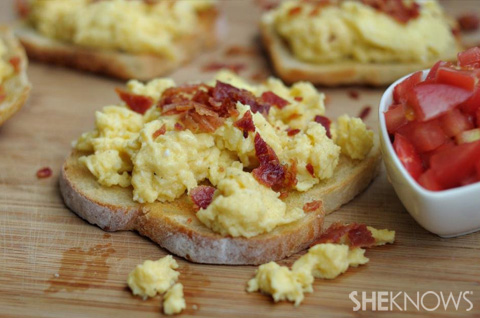 Scrambled egg toasts with bacon confetti
Serves 4
Ingredients:
4 slices high-quality bread of choice
4 tablespoons butter, divided
6 whole eggs
3 tablespoons whole milk
6-8 slices thick-cut bacon
Salt and pepper to taste
Directions:
Preheat oven to 400 degrees F.
Lay the bacon on a baking sheet.
Bake the bacon for 15 to 20 minutes, until crisp.
Remove the bacon from the baking sheet with a slotted spatula immediately, and allow to drain and cool on paper towels.
Heat a nonstick skillet over medium-low heat.
Whisk together the eggs, milk and desired amount of salt and pepper.
Melt 2 tablespoons of butter in the pan, swirling it around to evenly coat.
Pour the eggs in and, stirring constantly, cook over medium-low heat until a soft scramble forms and the eggs are cooked all the way through.
Toast the bread to desired doneness and spread, equally between the 4 slices, 2 tablespoons of the butter evenly on top.
When the eggs are done, evenly distribute them on top of the toast.
Chop the bacon into a fine confetti.
Sprinkle evenly on top of the eggs.
Serve hot.
More scrambled egg favorites
Scrambled egg muffins
Scrambled egg breakfast tostadas
Western-style scrambled egg and sausage sandwich