Pink lemonade cookies
Take your picnic refreshments to go with these pink lemonade cookies.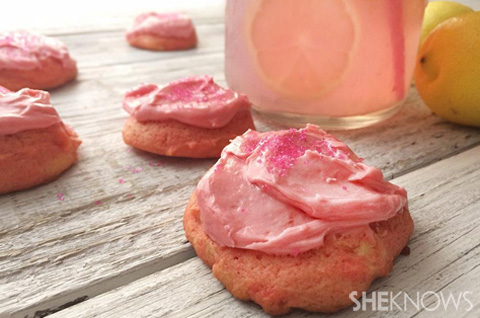 These tangy little cookies in a dainty shade of pink are the perfect finish to a light summer meal, but they're easy enough to whip up in a flash for that last-minute tea party with your little ones.
Pink lemonade cookies recipes
Ingredients:
1/2 cup plus 2 tablespoons unsalted butter, softened and divided
1/2 cup granulated sugar
1/2 teaspoon baking powder
1/4 teaspoon baking soda
1/4 teaspoon kosher salt
1 egg (room temperature)
1/3 cup plus 4 teaspoons frozen pink lemonade concentrate, divided
1/4 teaspoon lemon zest
1-3/4 cups flour
Red food coloring
2-3 teaspoons milk
1 cup powdered sugar
1/8 teaspoon vanilla extract
Pink sprinkles (optional)
Directions:
Preheat the oven to 350 degrees F.
In a stand mixer, cream 1/2 cup of the butter and the granulated sugar until the mixture becomes fluffy. Add the baking powder, baking soda and salt and combine. Add the egg, lemonade concentrate, lemon zest, flour and food coloring until all the ingredients are completely mixed. Start with 3 to 4 drops of red food coloring and continue to add more until your cookie dough is the desired color.
On a baking sheet lined with parchment paper, portion out rounded teaspoons of dough about 1-1/2 inches apart. Cook on the center rack for 10 to 13 minutes or until the edges start to brown and a toothpick can exit cleanly from the center of a cookie. Transfer the cookies to a cooling rack.
In a stand mixer, combine the butter, powdered sugar, lemonade concentrate, milk and vanilla extract. Add red food coloring if you would like your frosting to be a deeper pink.
Spread the frosting over the cooled cookies and top with sprinkles if desired.
More cookies recipes
Orange-ginger cookie dough
Gooey Baileys Irish buttercream sandwich cookies
Cranberry and white-chocolate cookies recipe