Blueberry oatmeal and chocolate chip cookie bars
These cookie bars are so easy and fast to make. One batch and you're done. Just like that.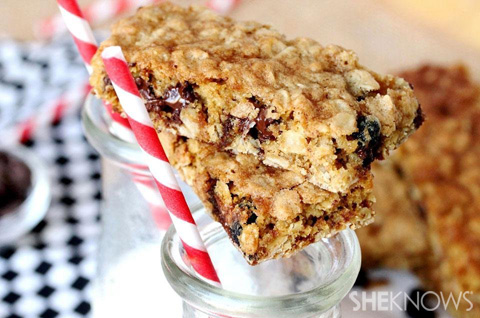 Making cookies just got a lot easier. No need to make cookies in batches anymore, just make them all at once. To save time, I like to make cookie bars because all you have to do is spread the cookie dough out on a large cookie sheet that has a lip on all edges, bake in the oven for about 15 minutes, and let them cool slightly before cutting them. I think cutting the cookie bars might be my fave part because I use a pizza cutter and it's so fast. These oatmeal cookies work well when cut in a rectangular shape.
Blueberry oatmeal and chocolate chip cookie bars recipe
Makes about 24 rectangular cookie bars
Ingredients:
1 cup butter, softened
1/2 cup granulated sugar
2 eggs
1-1/2 cups flour
1 teaspoon baking soda
1-1/2 teaspoons salt
1 teaspoon ground cinnamon
1 cup brown sugar
1 teaspoon vanilla
3 cups uncooked old fashioned oats (not instant)
1/2 cup milk chocolate chips
1/2 cup dried blueberries
Directions:
Preheat the oven to 350 degrees F.
In a large mixing bowl, cream the butter, granulated sugar and eggs.
Mix in the flour, baking soda, salt, cinnamon, brown sugar and vanilla.
Using a large sturdy spoon, stir in the oats, chocolate chips and dried blueberries.
Lay parchment paper onto a cookie sheet that has lips on all edges (let the paper hang over the edges about 1-1/2 inches on all sides of the cookie sheet).
Evenly spread the cookie dough in the pan leaving about 1/2 inch of space in between the dough and the edges of the pan.
Bake in a preheated oven for about 15 minutes or until the dough is firm but still a little soft in the middle.
Let cool while still in the pan for about 8 minutes.
Using a pizza cutter, cut into rectangular bars (just a bit shorter than the size of a granola bar).
After cutting the cookies into bars, continue to leave them in the pan while they cool.
Let the cookie bars cool until they firm up enough to remove them from the pan.
More cookie bar recipes
Butterscotch cookie bars
Toffee nut cookie bars
Cherry oatmeal cookie bars