4 Kid-friendly dinners (no oven required)
When it's this hot outside, the last thing I can even think about is turning on the oven or clicking on our gas range. In fact, even the thought of using the microwave is too much to handle. So instead of sticking to takeout or fasting on simple salads, I decided to make four deliciously refreshing recipes that require no cooking at all.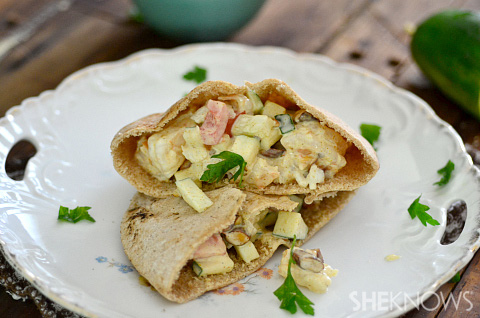 No ovens, no toasters, no grills, no stove tops, no microwaves or even brewers, these meals are 100 percent cook and heat free. And no, these dishes aren't just raw either. They are filled with fresh ingredients, like lots of summer produce, and leftover meats you've sweated making the day before. The best part (besides the no cooking) is that your kids will love them too.
Curried shrimp salad pita pockets
Serves about 5
Ingredients:
1/2 pound cooked shrimp, chopped
1/2 cup chopped cucumbers
4 ounces Greek yogurt
1/2 cup mayo
2 tablespoons lemon juice
1 large tomato, chopped
1 tablespoon curry powder
Salt and pepper
1 green onion, chopped
Salt and pepper
Parsley for garnish
4 pita pockets
Directions: 
In a large bowl, mix the shrimp, cucumbers, Greek yogurt, mayo, lemon juice, tomato, curry powder, salt, pepper and green onion. Stir to combine.
Stuff the salad into the pita pockets and serve with fresh parsley.
Leftover steak salad with raspberry vinaigrette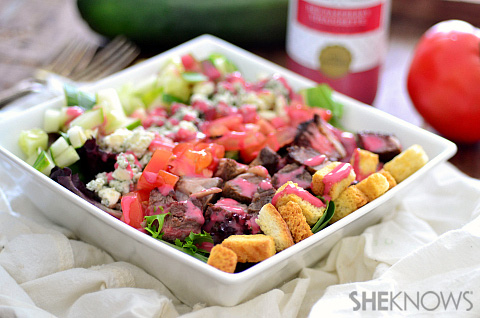 Serves about 4
Ingredients: 
2 filets of pre-grilled steak (about 5 ounces each)
4 cups mixed greens
2 large tomatoes, chopped
1 cucumber, chopped
4 tablespoons blue cheese
1 cup croutons
8 tablespoons raspberry vinaigrette (we used PlainSmart)
Salt and pepper to taste
Directions:
Fill 4 large salad bowls with the mixed greens.
Slice the steak into bite-size pieces. Then top each bowl with 1/2 of the chopped steak, 1/4 of the cucumber, 1/2 of the tomato, 1 tablespoon of blue cheese, 1/4 cup of croutons and 2 tablespoons of raspberry vinaigrette.
Creamy tuna and cucumber pasta with crispy croutons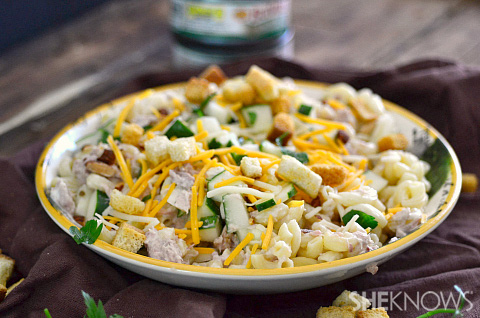 Serves about 6
Ingredients: 
3 cups cooked elbow macaroni
2 (5 ounce) cans tuna in water, drained
1 cup chopped cucumber
1 cup shredded cheddar and mozzarella cheese
1 cup mayo
2/3 cup croutons
Fresh parsley for garnish
Salt and pepper
Directions: 
In a large bowl, mix the macaroni noodles, tuna, cucumber, shredded cheese, mayo and salt and pepper. Top the salad with croutons and fresh parsley.
Strawberry, tomato and red pepper gazpacho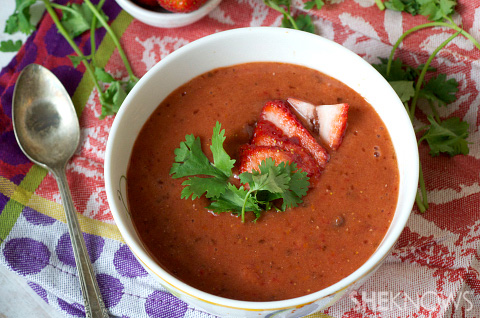 Serves about 3-4
Ingredients: 
10 large strawberries, hulled and sliced
1 large tomato, diced
1 large yellow heirloom tomato, diced
5 sweet bell peppers, chopped
Juice from 1/2 lemon
1/3 cup sun-dried tomatoes
About 3 tablespoons dry white wine
Salt and pepper to taste
Cilantro for garnish
1 large strawberry, sliced for garnish
Directions:
Place all of the ingredients in a high­-powered blender. Pulse on low until pureed and smooth. Add salt and pepper to taste.
Serve each bowl with fresh cilantro and sliced strawberries.
More no-cook recipes
3 No-cook fish recipes
3 Easy no-cook chicken recipes
No-cook peanut butter fudge recipe