Grilled corn and avocado ranch pasta salad
Grilled corn and avocado ranch pasta salad is a hearty and healthy addition to any summer meal. Use the freshest ingredients you can find as they are bountiful this time of year.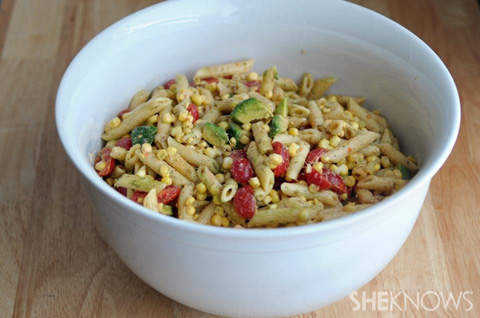 Grilled corn and avocado ranch pasta salad
Serves 8-10
Ingredients:
1 pound penne pasta
1 pint cherry tomatoes, halved
4 large ears fresh corn
1 tablespoon olive oil
2 large ripe avocados
2 tablespoons plain Greek yogurt
2 tablespoons olive oil
2 tablespoons lime juice
2 teaspoons Dijon mustard
1-1/2 teaspoons dried dill
1-1/2 teaspoons dried parsley
1 teaspoon garlic powder
1 teaspoon onion powder
1 teaspoon onion flakes
1 teaspoon hot sauce
Salt and pepper to taste
Directions:
Cook pasta according to package directions until al dente.
In a bowl, whisk together the yogurt, oil, lime juice, mustard, dill, parsley, garlic powder, onion powder, onion flakes, hot sauce, salt and pepper.
Rub the ears of corn with the olive oil and grill for about 10 minutes on a very hot grill until lightly charred.
Remove the corn from the grill and allow to cool.
Toss the pasta, halved tomatoes and dressing together.
When the corn has cooled, cut the kernels off of the cob and toss with the pasta.
Let the salad chill for 2 to 3 hours, then skin and cube the avocado immediately before serving.
Serve cold.
More pasta salad favorites