Sweet heat salmon rub
Sweet heat salmon rub makes a fabulous piece of fish even quicker to prepare by doing the spice mix ahead of time. Leave out some of the chili flakes for a milder fish for kids.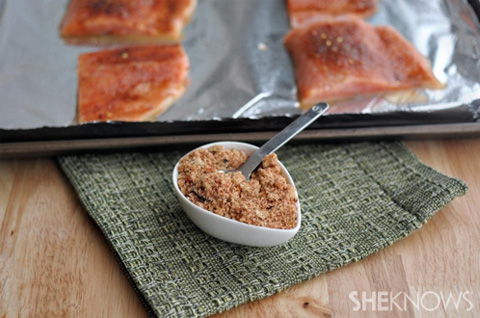 Sweet heat salmon rub
Makes 1/3 cup of seasoning
Ingredients:
1/4 cup light brown sugar
1 teaspoon salt
1/2 teaspoon red chili flakes
1/2 teaspoon garlic powder
1/2 teaspoon cumin powder
1/2 teaspoon paprika
1/2 teaspoon ground ginger
1/2 teaspoon ground black pepper
1 pound salmon, divided into 4-ounce filets
Directions:
Combine the brown sugar, salt, chili flakes (if using), garlic powder, cumin, paprika, ginger and black pepper.
For each batch of salmon, brush a baking sheet with oil or spray with nonstick spray.
Lay the salmon skin-side down on the prepared baking sheet.
Sprinkle each piece with 1 to 2 teaspoons of the prepared spice mixture.
Bake at 450 degrees F for 8 to 10 minutes until the fish flakes easily with a fork.
Serve immediately.
More fantastic and healthy salmon recipes
Walnut crusted salmon
Grilled salmon with caramelized onions
Griddle-cooked salmon with soy ginger sauce