Modern Mom: Healthy summer snacks for kids
Summer is officially halfway underway. Make the most of the rest of your summer with these fun, healthy snacks for kids.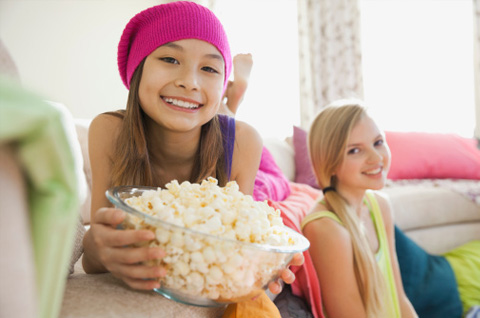 By the middle of July, everyone's probably pretty comfortable with summer and knee-deep into the new routine. Whether it involves daily swim lessons, backyard BBQs each weekend, kids' birthday parties, marathon movie days or a combination of all of the above, most likely the new and exciting season is beginning to fade (hey, it's 110 degrees where I live). But, among the hustle and bustle (and sweat), we still need to feed our kids healthy snacks each and every day. Whether you're looking to fill up their tummies or provide a fun learning experience, we've got you covered.
Healthy snacks for learning
Instead of simply serving your kids a snack, turn it into a game or craft that they can learn from. My 2-year-old is currently learning shapes and colors. I slice up a variety of fruit into simple shapes and let her build her own fruit kabob. I keep the shapes simple — circle, square, triangle, rectangle and a star if I'm feeling extra crafty (mini cookie-cutters work great). This project is perfect for those 5 and under.
My 2-year-old can also successfully count to 20, and while some of the credit goes to her YouTube learning videos, most of it goes to me counting everything from steps to goldfish crackers. Snack time is all about numbers in this household. I ask her how many Ritz crackers, goldfish or grapes she wants, and she responds and we count them together.
Feed your brain with these healthy brain foods: Education.com found that the best foods for kids' brains include blueberries, yogurt, avocados, eggs and dark chocolate.
Our best healthy summer snacks
Yogurt parfaits. Combine two brain foods — yogurt and blueberries — with bananas and granola and you've got a sweet treat kids will love. This pink grapefruit yogurt parfait is not only good for the brain, it's good for the heart by helping to lower 'bad' LDL cholesterol.
PB & J muffins. Easy to make and the kids will go nuts for these PB & J muffins. Serve for lunch with a side of fruit or as an afternoon pick-me-up (while you have your coffee).
Peanut butter banana bites. The kids can help you make these four-ingredient peanut butter banana bites. Try subbing the chocolate chips for white chocolate chips, peanut butter chips or, if you're feeling extra healthy, raisins or dried cranberries.
Good-for-you cookies. Who knew healthy cookies existed? These good-for-you lunch box cookies contain oat flour, ground flaxseed, unsweetened shredded coconut and dark chocolate. The kids will have no idea they're eating something so healthy, and you'll be happy to say 'yes!' when they ask for seconds.
We know it's easy to get bogged down by the hot weather and busy summertime routine. Hopefully, these creative snack ideas will give you just what you need to get through the remainder of summer. Happy snacking!
More Modern Mom
Modern Mom: The importance of vitamin A for your kids
Modern Mom: 10 Heart-healthy foods for kids
Modern Mom: Nutritional dessert ideas for kids
Photo credit: Hero Images/Getty images