Shrimp taco pizza
Shrimp taco pizza combines the flavors of a delicious shrimp taco and a perfect pizza crust. Make the crust as thin or thick as you'd like — this is one meal the whole family can customize.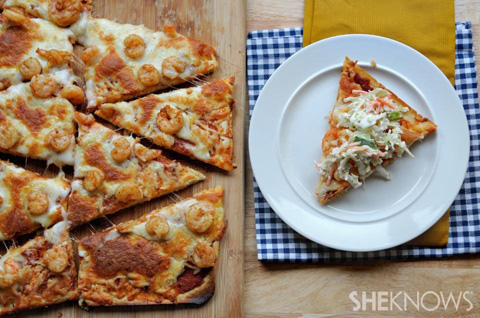 Shrimp taco pizza
Serves 4
Ingredients:
1 pound prepared pizza dough
1 pound medium shrimp, tails removed and deveined
1 cup salsa of choice
2 cups mozzarella cheese
1/2 pound shredded cabbage coleslaw mix
1/2 cup Greek yogurt
Directions:
Preheat oven to 450 degrees F.
Lightly oil a large sheet pan.
Using your hands and a rolling pin, roll the dough out to the desired thickness.
Place dough on sheet pan.
Spread the salsa on the dough, then evenly sprinkle with cheese.
Place the shrimp evenly on top of the cheese.
Bake for 10 to 15 minutes until the dough is cooked through, the shrimp are cooked through and the cheese is bubbly and brown.
While cooking, stir the Greek yogurt and coleslaw mix together.
When the pizza is done, allow it to sit for 5 to 10 minutes before cutting.
Serve each slice with a little bit of the coleslaw mix on top.
More shrimp taco recipes to love
Bite-size shrimp tacos
Shrimp tacos with lime dressing
Shrimp taco salad