Low-carb burger meatballs and slaw
Low-carb burger meatballs and slaw is a healthier take on a hamburger. Meatballs filled with hamburger fixings are served up high on a bed of sweet and tangy slaw.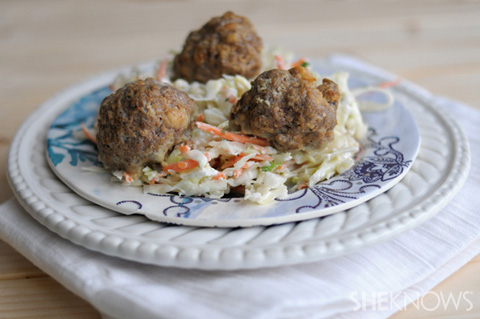 Low-carb burger meatballs and slaw
Serves 4
Ingredients:
1 pound ground beef
2 tablespoons yellow mustard
2 tablespoons ketchup
1 whole egg
1/4 cup breadcrumbs
2 teaspoons grill seasoning
16 ounces shredded coleslaw mix
1/2 cup mayonnaise
1/2 cup Greek yogurt
1/2 small onion, diced
2 cloves garlic, minced
3 tablespoons apple cider vinegar
1/2 teaspoon salt
1/2 teaspoon pepper
1/2 teaspoon dry mustard
Directions:
In a large bowl combine the ground beef, mustard, ketchup, egg, breadcrumbs and grill seasoning until everything is incorporated.
Refrigerate the mixture for about 1 hour before scooping into 16 meatballs.
Preheat oven to 400 degrees F and line a baking sheet with parchment paper.
Place the meatballs on the baking sheet.
Bake at 400 degrees F for 20 minutes, then allow to cool for 5 minutes before serving.
While the meatballs are baking, combine the mayonnaise, yogurt, onion, garlic, apple cider vinegar, salt, pepper and dry mustard in a food processor and process until smooth.
Add the dressing to the coleslaw mix and toss to coat.
To serve, divide the coleslaw into 4 equal portions, then serve each plate with 4 meatballs each.
More ways to create the perfect burger flavor
The juiciest, most mouthwatering burger recipes
Chipotle burger with caramelized red onions
Bourbon burger and sauce