Dinner Shortcuts: Chicken, bacon and ranch roll-ups
Bust out those tortillas and pack them full of chicken, bacon and creamy ranch dressing. Hello simple dinner.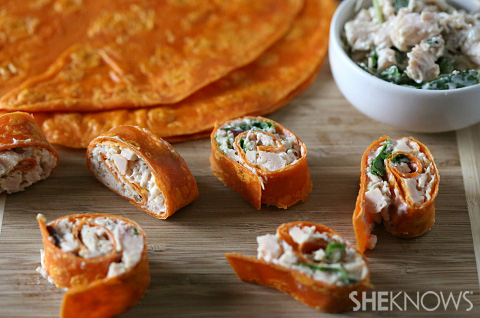 I love nothing more than a quick summer lunch or dinner. These simple chicken, bacon and ranch roll-ups are a breeze to put together and taste amazing. Plus they are great for picnics and on-the-go road trip snacking.
Chicken, bacon and ranch roll-ups
Yields 2 servings
Ingredients:
1 large can chicken, drained
2 crispy pieces bacon, crushed
1/4-1/3 cup ranch dressing
1/3 cup baby spinach, chopped
2-3 sun-dried tomato tortillas
Directions:
In a medium-sized mixing bowl add chicken, bacon, ranch dressing and baby spinach.
Mix together until completely combined. Break down the chicken so it's completely shredded.
Lay out tortillas and spread a thin layer of chicken mixture onto the tortilla, leaving 2 inches clear on the long edge of the tortillas.
Tightly roll up and slice with a sharp knife.
More Dinner Shortcuts recipes
Greek meatball sliders recipe
Italian sub crescent roll-ups recipe
Chicken and rice casserole recipe