Dinner Shortcuts: Kielbasa tacos
Kielbasa is no longer just for eating plain. We are using it in a taco and you're not going to believe how tasty it is.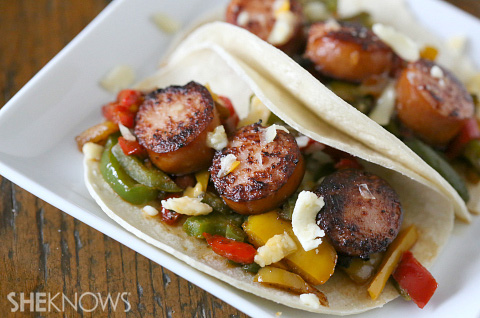 Nothing gets me into the kitchen quicker than kielbasa. It's my favorite easy store-bought sausage and can be made in no time. Plus these tacos give Taco Tuesday a whole new spin.
Kielbasa tacos
Yields 4 servings
Ingredients:
2 tablespoons olive oil
1 pound kielbasa, cut into 1-inch rounds
2 cups frozen tri-colored bell peppers
1 teaspoon smoked paprika
4-6 small corn or flour tortillas
1/2 cup shredded cheese
Directions:
In a large skillet set over medium-high heat, add olive oil. Once the oil is hot add in kielbasa and cook until browned.
Add in peppers and smoked paprika and saute until the peppers are cooked and soft.
Lay out tortillas and fill with peppers and sausage. Top with a sprinkling of cheese.
More Dinner Shortcuts recipes
Stove top meatloaf recipe
BBQ chicken quesadilla recipe
Monte Cristo crescent roll-up recipe