Fruit-filled waffle cones
Carving out a watermelon for your fruit salad bowl is so last year — serve up some summer fruit in waffle cones for a handheld treat.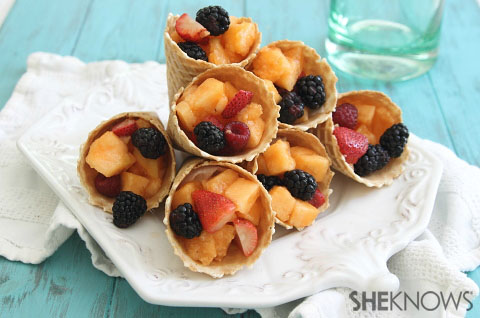 Who wants to spend hours constructing fancy fruit bowls or deal with plates and forks at the summer barbecue? Waffle cones make the perfect vehicle to serve up some fruit this summer. They're handheld, portable and make a boring fruit salad a lot more fun.
Fruit-filled waffle cones
Serves 6-8
Ingredients:
6-8 waffle cones
1 small cantaloupe, chopped
1 pint raspberries
1 pint blackberries
1/2 pound strawberries, hulled and halved
Directions:
Combine fruit in a large bowl.
Spoon fruit into waffle cones right before serving.
More fruit salad recipes
Wheat berry and stone fruit salad
Margarita fruit salad
Fruit and nut salad