Oven baked chicken over a bed of vegetables
When I'm busy from a hard day's work, all I can think of is having a comforting dinner and a glass of wine. For me, a roast chicken will do the trick. This one-pot dish is pure comfort from start to finish.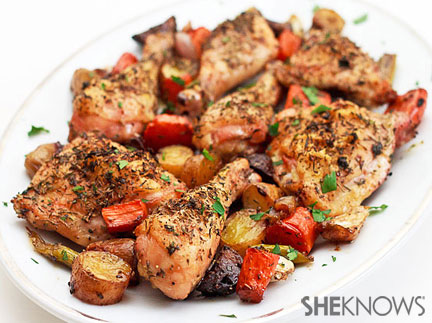 A simple and easy roast chicken recipe for all the busy folks out there.
Oven baked chicken over a bed of vegetables
Makes 4-6 servings
Ingredients:
2 pounds chicken thighs and drumsticks
Vegetables (onions, garlic, carrots, celery, potatoes and/or broccoli)
Olive oil
2 tablespoons balsamic vinegar
Salt and pepper, to taste
Fresh parsley, chopped
Dried herbs mix (thyme, rosemary, oregano)
Directions:
Preheat the oven to 425 degrees F.
Wash and prep your preferred vegetables and cut into bite-sized pieces. Arrange the vegetables on the bottom of a baking dish. Sprinkle with olive oil, balsamic vinegar, salt, pepper and herbs.
Rub the chicken drumsticks and thighs with olive oil. Sprinkle the chicken pieces generously with salt and pepper and place on top of the vegetables.
Bake for an hour or until chicken is done. Let the chicken pieces rest on a serving platter. Mix vegetables in the baking dish and roast 5-10 minutes longer if needed. Garnish with chopped fresh parsley.
More easy recipes
Sweet potatoes with balsamic maple glaze recipe
Harvest glazed carrots recipe
Roasted vegetables recipe