Restaurant copycat: McDonald's McFlurry
Sometimes when I'm feeling really desperate, sad, stressed or angry, I hop in my car and drive to the nearest McDonald's. Without a second thought, I order the largest McFlurry they have and eat it like a hyena on the drive home. There's just something so incredible about those darn McFlurries.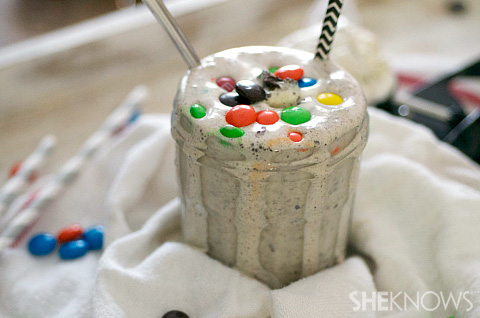 To save myself the shame and embarrassment of these McDonald's runs, I decided to whip up a homemade version of this sweet on-the-go treat. Made with chunks of cookies and sweet and crunchy M&M's, this homemade McFlurry is even better than the drive thru (with far less shame, too).
Restaurant copycat: McDonald's McFlurry
Serves 1
Ingredients: 
About 1/3 cup crushed Oreo cookies
3 cups vanilla soft serve ice cream
1/4 cup milk
1 tablespoon half and half creamer
Handful of M&M's for the top
Chopped Oreo cookies for the top
Directions:
Add 1/4 cup of the Oreos, ice cream, milk and creamer into a blender. Blend on low until smooth. Remove from the blender and stir in the remaining cookies.
Pour the mixture into a glass and garnish with M&M's and Oreos.
More restaurant copycat recipes
Restaurant copycat: Cheesy pizza bread
Restaurant copycat: Auntie Anne's Pretzels
Restaurant copycat: Carl's Jr. Philly Cheesesteak Burgers