Grilled chicken with corn salad
Chicken doesn't have to be boring. This delicious grilled chicken pairs perfectly with a tasty grilled corn salad.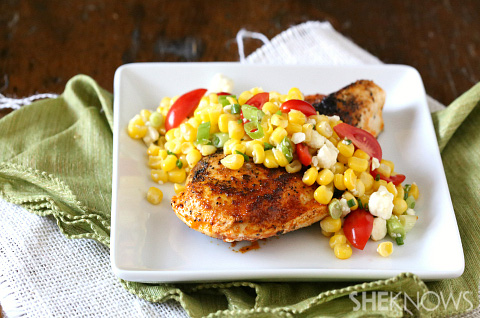 Grilled chicken is my go-to summertime simple dinner fix. However, finding side dishes to go alongside it can get boring. While I always love grilled asparagus we can't eat it every single night. This simple corn salad combines grilled corn, crumbly feta cheese, cherry tomatoes and green onions. It's summery, refreshing and perfect for dining al fresco.
Grilled chicken with corn salad
Corn salad adapted from Taste of Home
Yields 4 servings
Ingredients: 
4 boneless, skinless chicken breasts
2 tablespoons Cajun seasoning
3-4 ears corn, shucked (about 2 cups)
2 green onions, diced
1/2 cup crumbled feta cheese
1/2 cup halved cherry tomatoes
1-1/2 tablespoons extra virgin olive oil
1 tablespoon lime juice
1/4 teaspoon smoked paprika
Pinch kosher salt
Fresh cracked black pepper
Directions:
Preheat grill to medium heat.
Lay out chicken breasts and sprinkle the top and bottom with Cajun seasoning.
Add chicken and corn to the grill. Grill the chicken until fully cooked, about 5 minutes per side. Remove the chicken from the grill and let rest.
Grill the corn until it's just started to char on the outside. Remove the charred corn from the grill.
Cut the corn off the cob and add to a large mixing bowl. Stir in diced green onions, feta cheese and tomato halves. In a small bowl whisk together olive oil, lime juice, smoked paprika, kosher salt and black pepper.
Pour the olive oil mixture over the corn and stir together.
To serve place 1 chicken breast per plate and top with equal parts corn salad.
More chicken recipes
Tex-Mex chicken salad recipe
Pretzel-crusted chicken recipe
Baked sweet and sour chicken recipe