2-Ingredient chocolate pancakes
All you need is 2 ingredients and you will be on your way to awesome chocolate pancakes. Drizzle with maple syrup, chocolate sauce or even whipped cream. So good.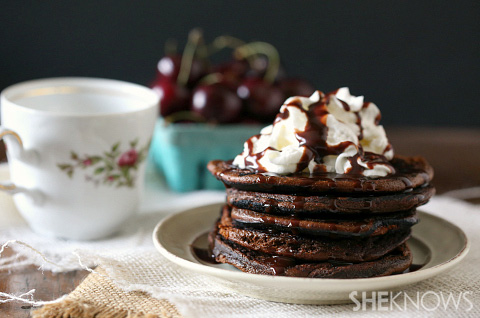 When I was a kid, I hated pancakes. I would turn up my nose and beg for my mom to make French toast instead. To be honest I'm not really sure what was up with my 8-year-old self. What kid hates pancakes? I now find pancakes one of the most delicious things of all time. Especially when they are chocolate. Really though, the best thing about this recipe is that it only uses two ingredients that you probably already have in your kitchen. That means there is no excuse to not get into your kitchen and make them immediately.
2-Ingredient chocolate pancakes
Yields about 12 pancakes
Ingredients: 
2 cups dark chocolate cake mix, dry
1 cup whole milk
Whipped cream, optional
Chocolate syrup, optional
Directions:
In a medium mixing bowl, add dry cake mix and whole milk. Stir together until smooth. If the mixture is too thick, simply thin out with more water until you have reached the desired consistency.
Heat a griddle to medium-high heat. Once hot add about 1/4 cup pancake mix per pancake to the griddle. Cook for about 1 minute per side, flip and cook until the other side is cooked.
Serve warm with whipped cream and chocolate syrup.
More pancake recipes
Bacon and chocolate chip pancakes
Bacon-stuffed pancake dippers
Oreo pancakes