Funfetti skillet cookie
Bust out that skillet and make a cookie. You're going to love all that butter cookie flavor and all the colorful sprinkles.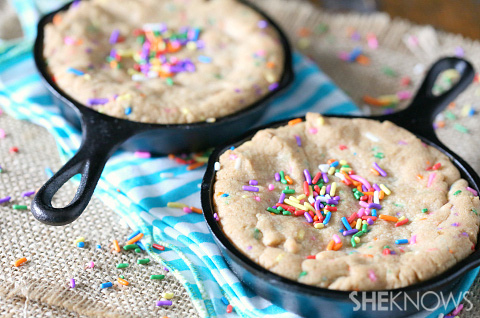 I'm a sucker for anything made with sprinkles and stuffed into a skillet. These cookies are perfect for a fun, rustic dessert and totally adorable. Plus, who doesn't love sprinkles?
Funfetti skillet cookie
Yields 4 skillet cookies
Ingredients:
1 (17.5 ounce) bag sugar cookie mix
1 large egg
1/3 cup butter, room temperature
1/2 cup sprinkles
1/4 cup white chocolate chips
1/4 cup dark chocolate chips
Directions:
Preheat oven to 375 degrees F.
In the bowl of an electric mixer, add sugar cookie mix, egg and butter. Mix together until dough forms.
Mix in sprinkles, white chocolate chips and dark chocolate chips.
Press equal amounts of the cookie mixture into 4 (5-inch) cast iron skillets.
Bake for 15 minutes until the edges are browned.
More cookie recipes
Candied bacon chocolate chip cookies
Maple almond butter sea salt cookies
Cookie butter-stuffed pretzel bites