Bacon and egg breakfast puff pastry tarts
Tired of the same old breakfast? These simple puff pastry squares are filled with fresh sunny-side up eggs and lots of crispy bacon. Hello delicious.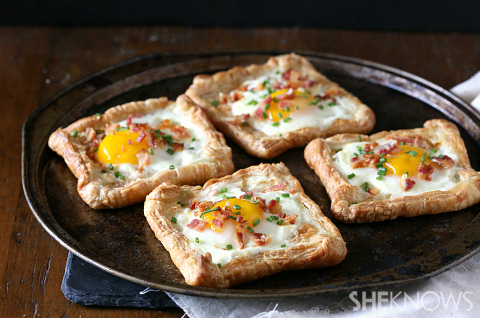 Breakfast has never looked so good or tasted so great. I made these delicious puff pastry tarts for my husband for our weekend breakfast and he was in love. Not only do they look fancy but they are so easy. The egg is baked right onto the tart and is topped with lots of crispy bacon and fresh chives.
Bacon and egg breakfast puff pastry tarts
Yields 4 servings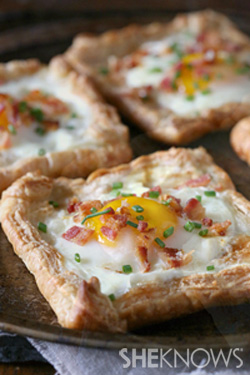 Ingredients:
1 sheet puff pastry
4 tablespoons grated Parmesan cheese
4 large eggs
4 slices crispy cooked bacon, chopped
4 chives, diced
Directions: 
Let puff pastry thaw and roll out. Cut into 4 squares and fold over a tiny bit of each edge to create a crust. Once this is done add to a baking sheet and place in the fridge to chill while your oven heats.
Heat oven to 425 degrees F.
Once the oven is heated take the puff pastry out of the refrigerator and prick the area in the middle with a fork. Add puff pastry to the oven and cook for 10 minutes.
Remove puff pastry from the oven and prick the middle of the pastry again if it has puffed up too much.
Sprinkle the middle of each puff pastry tart with Parmesan cheese and crack an egg over the top.
Add back to the oven and bake for another 8 minutes until the egg is set but the yolk is still runny.
Sprinkle the top of the tarts with bacon and chives.
Serve immediately.
More breakfast recipes
Loaded glazed donut breakfast sandwich
Sweet potato and ham hash
Ultimate breakfast sandwich