Modern Mom: Favorite kids' dinner recipes
Ask your child what their favorite dinner is. Chances are it's on our list. These recipes are sure to make your child (and you) feel happy and full.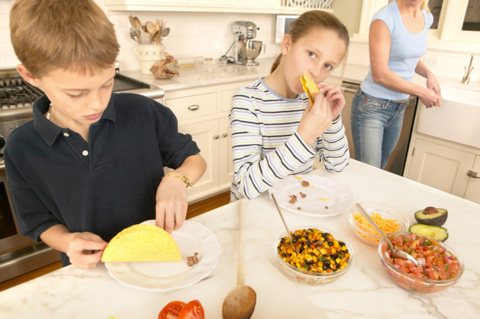 When you were a kid, what was your favorite meal? Mine was spaghetti and meatballs followed by homemade tacos. My kids' favorite meals are grilled cheese and macaroni and cheese. I'm not personally a cheese fan (crazy, I know), but I'm more than willing to make these meals because my kids love them so much. Here is a roundup of our best dinner recipes for your typical child's favorite meal.
Burgers
Hamburgers are quick to grill and are almost always a crowd-pleaser for kids. I like making our own "burger bars" and offering a wide array of toppings to the kids and family. Chili, different types of cheeses and condiments, barbecue sauce, avocado, mushrooms, onions and pickles are all top picks by my kids.
Tacos
Traditional tacos are fun — cook up some chicken or beef, whip up a homemade salsa and get out the shredded lettuce, cheese and tortillas. Serve with Mexican rice and black beans for an easy Mexican feast. Or, put a twist on traditional tacos and try these sausage pizza tacos.
Mac 'n' cheese
If your kids are in need of some veggies, give this broccoli chicken macaroni and cheese a try. For sleepovers, try these four-cheese mac-and-cheese cups. They make single-size servings which are perfect for a large crowd. Be warned, though, as you will become the new favorite mom of all your kids' friends.
Spaghetti
Mmmm spaghetti and meatballs! Paired with some homemade garlic bread, this Italian meal is still a favorite of mine. Recently, I discovered baked cream cheese spaghetti that my kids literally gobble up. If just my husband and I are eating or if your kids love a little zing to their food, this spicy skillet chicken spaghetti is a must.
Pizza
Every Friday, pizza was served in our house and it's a tradition I'm passing on. Whether we ordered delivery service, cooked a frozen one or made one from scratch, pizza Fridays were a favorite of mine. If you really want to impress your kids, combing their love of pizza with their love of burgers with this cheeseburger pizza for the win.
More Modern Mom
Modern Mom: The importance of vitamin A for your kids
Modern Mom: Teaching your kids to love cooking
Modern Mom: Food and toddler temper tantrums
Photo credit: Kris Timken / Photodisc / Getty Images