Sweet peach tea
Sweet peach tea uses homemade peach nectar to sweeten perfectly brewed iced tea.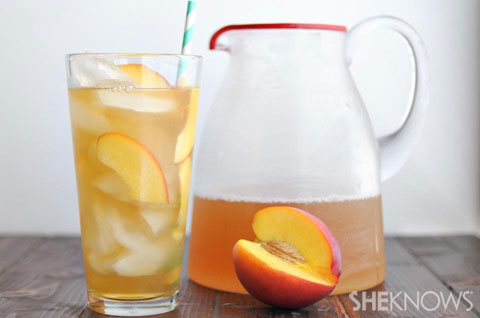 Sweet peach tea
Makes 2 quarts
Ingredients:
2 quart-sized iced tea bags
2 quarts water, divided
2 cups sliced peaches
1/2 cup sugar
Directions:
In a small saucepan, bring 2 cups of water to a boil.
Remove from heat and add the tea bags.
After 5 minutes remove the tea bags and allow the tea concentrate to cool.
Meanwhile bring 2 more cups of water, the peaches and the sugar to a boil.
Boil for 5 minutes or until the peaches are extremely tender and the sugar is dissolved.
Add the sugar mixture to a blender and carefully blend until very smooth.
Strain the peach puree into a pitcher, add the brewed tea concentrate and the rest of the water.
Stir to combine.
Refrigerate for 2 to 3 hours and then serve chilled over ice.
More thirst-quenching tea recipes
Alcoholic sweet tea
Spiked cranberry tea
Refreshing mojito iced green tea